Raising The Standard in Skin Care
Share on:
by Exponent Beauty / Oct 06, 2022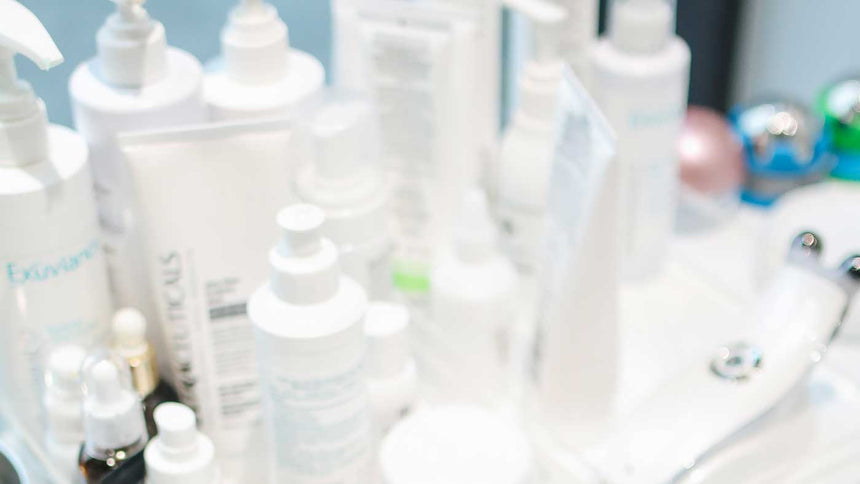 When it comes to effective skincare, even the top-performing products are bound to go awry. Don't worry though: we've decided to raise the standard. It all started for our founder after she uncovered some not-so-glowing skincare facts in a study on clinical skincare. The products tested had lost 40% of their active ingredient within six weeks, and 60% of them didn't have meaningful concentrations of the active ingredient to start with. It was high time for someone to create something that could prevent these frustrating results.
So we did it: we cracked the code on effective skincare by focusing on three essential rules. These rules are centered on the idea that skincare shouldn't be valued just by what products are free of, but by what they're full of. Each product should contain a proven-to-work ingredient, at a meaningful concentration, and maintain that concentration over a product's life. It should also be clinically tested to prove that the product leads to results. Let's go through our standards — eyes open, expectations raised.
Rule 1: Must Contain Ingredients That Actually Work
Despite the multitude of innovative ingredients that claim miraculous effects, the tried-and-true actives remain the best. The first and most important rule of effective skincare is it should contain active ingredients that have been heavily researched and scientifically proven to trigger changes within the skin. With this in mind, all Exponent formulas focus on the 12 skincare ingredients that won't quit, the ones that reign supreme in the skincare world.
12 Scientifically Proven Active Ingredients
Active ingredients are the compounds in a formula added to deliver the benefits claimed on the label, like anti-aging, brightening, and hydrating. Simply put, actives are what makes a product effective. Here are the best science-backed active ingredients in skincare that Exponent serums are chock-full of:
Rule 2: Must Be Effective From First Use to Last
We firmly believe that for a product to produce results, the active ingredients must be present at a meaningful concentration and maintain that concentration over a product's useful life. Concentration matters, yet, according to our clinical study, 60% of the products had a starting concentration below the limit needed for any efficacy at all. More disappointing still, on Day 1 — when the product was first opened — the concentration of active ingredients was sometimes 30% lower than what the brand claimed. 
Exponent's solution: using proven actives at a meaningful concentration in a system that doesn't allow external agents to degrade the formula. That's why with our first-of-its-kind precision-dosed, refillable package that prevents oxidation and degradation of actives you'll enjoy effective skincare till the last drop. 
Is Your Skin Care Product Still Effective?
As consumers, we're often inundated with plenty of advertising from skincare brands claiming that their products bring all sorts of benefits. But given the fact that most actives are prone to degradation when in contact with light and air, there's a good chance your products may become ineffective after the first application. You'll know for sure your product has lost potency if it changes color, scent, or texture. 
The Solution: Mix on Demand
With the shocking rate of degradation when culprits like air, light, and water deactivate formulas day by day, the answer came to Exponent founder Liz Whitman: mixing fresh actives on demand to ensure peak potency. As such, Exponent defies skincare convention with a much-needed anti-degradation innovation that allows actives to keep their potency until the instant you activate them with our Quadruple Hydration Hyaluronic Serum. All of our active powders combine with the same Hydrator so you can customize your AM & PM routine in the blink of an eye.
Rule 3: Must Be Clinically Proven
The third rule by which we are guided is that skincare products' effectiveness should be shown in clinical trials that reveal actual and measurable benefits, not just personal interpretation of effects. 
We often get caught up in the hype when seeing terms like "shown to firm skin" without bothering to dig deeper and find out what these marketing claims even mean. How trustworthy are these advertising buzzwords? Spoiler: they're not fully reliable. 
Most skincare brands describe the effects of their products based on consumer perception, which is different from clinical trial testing. Often, these claims are founded on subjective consumer feedback, where people who have used a product are asked to fill out a survey from which brands draw conclusions. On the other hand, clinical testing measures results in a clinical environment. In clinical trials, research staff regularly see participants in order to monitor the results and determine a product's effectiveness. That's how objective, factual results are determined, which is why percentage trumps perception.  
Personal interpretation with thoughts on paper doesn't equal measuring in detail under a microscope in a clinic, and that we know. For this reason, we rely more on testing than marketing, and all of our products have been clinically proven to be safe and effective.
Skin Care Product Testing + Industry Regulations
Unfortunately, the cosmetic regulations on product testing are vague. "Neither the law nor FDA regulations require specific tests to demonstrate the safety of individual products or ingredients." [1] So, the best way to ensure that products have been clinically tested is to check the research sources on brands' official websites in case they have been disclosed. 
All Exponent products have been tested in clinical trials that show actual, measurable benefits, not just perception effects. 
FAQs About The Standard
Are skincare products safe?
Most skincare products are considered safe, yet some products may contain irritants or compounds that are toxic, such as formaldehyde and phenol. For this reason, you should always stick to cult-favorite beauty brands that know what they're doing.
Do skincare products expire?
In general, skincare products expire, regardless of the type of product, concentration of active ingredients, or price. 
What are some skincare products with higher concentration of ingredients?
Usually, serums have higher concentrations of ingredients due to their ability to penetrate the skin and deliver actives into the deeper layers. For instance, our Brightening Boost Vitamin C Serum is full of 10% L-ascorbic acid to trigger changes at a cellular level in the skin. 
Do face creams expire?
Face creams expire like any other skincare product. If you're in doubt, check the printed number on the jar — that represents how many months you can use the face cream once open. 
How long do skincare products last?
Depending on the storage conditions, skincare products can last up to two-three years if unopened. If opened, however, it depends on the type of product at hand; a vitamin C serum can go bad after three months, while cleansers usually begin to degrade after six months.
Raising The Standard For Your Skincare Routine
At the end of the day, creating a high standard for effective skincare that uses only scientifically proven actives at a meaningful concentration in a system that doesn't allow degradation wasn't out of the realm of possibility (a mouthful, we know). Exponent is honored to present you with the first Self-Activating skincare line, full of high-performance clean ingredients, effective from the first use to last without ever sacrificing efficacy. Build your routine here. 
Words By: Ana Vasilescu
FDA Authority Over Cosmetics: How Cosmetics Are Not FDA-Approved, but Are FDA-Regulated, Source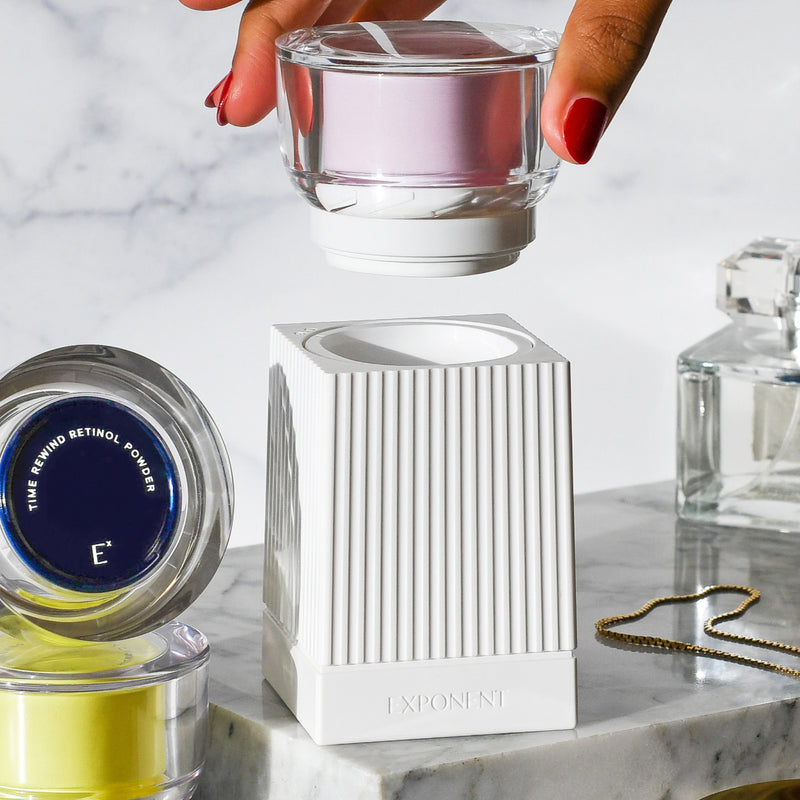 MIXED FRESH AT PEAK POTENCY.
Powered by clinically-proven, pure Active Powders combined with a Hyaluronic Acid Hydrator, our Superior Serums are made fresh in an instant at peak potency.
SHOP NOW