Asiaticoside: Skincare Ingredient Spotlight
Asiaticoside
Research
skin
Skin Care
Share on:
by Exponent Beauty / Jan 31, 2022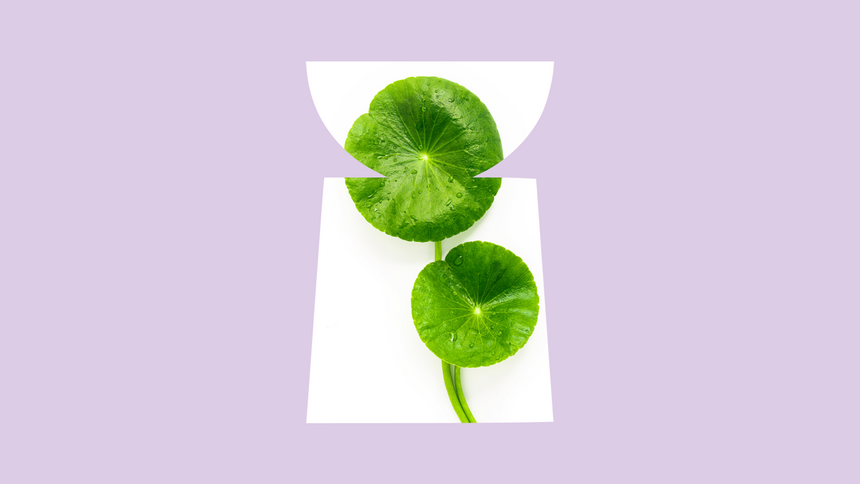 Just when you were thinking you know them all, a new standout ingredient makes its way into the zeitgeist and on to skincare gurus Insta feeds. What is it this time? Asiaticoside in skincare.
This hard-to-pronounce compound is not the latest trend for nothing; the sudden uptick of this lesser-known ingredient in popular products is proof that asiaticoside benefits are real, and everything is backed by science. 
Wondering what asiaticoside is used for? 
Asiaticoside strengthens skin and speeds up wound healing thanks to it encouraging the production of collagen. This also plays a role in diminishing wrinkle appearance, smoothing and softening skin.[1] This supports the skin enough to stay moist and plump, therefore hindering water evaporation. Read on to learn about asiaticoside and why it has made its way from the K-beauty world onto the vanities of skincare enthusiasts everywhere. 
WHAT IS ASIATICOSIDE?
Asiaticoside is one of the major compounds of the Centella asiatica plant (which also goes by cica, Gotu kola, and tiger grass names), along with madecassoside, asiatic acid, and madecassic acid. At its very base, asiaticoside is an active saponin, aka a compound with the characteristics of an emulsifying agent.[2] In other words, asiaticoside is a hydrating-skin saver. But the good news doesn't stop here. Asiaticoside does way more than hydrate the skin. 
WHAT DOES ASIATICOSIDE DO FOR YOUR SKIN? 
Asiaticoside benefits for skin are endless, so it's no surprise there has been a veritable Centella Asiatica-infused product boom lately. Thanks to its myriad of perks, asiaticoside is classified as an anti-ager, anti-inflammatory, antioxidant, anti-wrinkle, healing agent, skin regenerator, replenishing agent, and skin soother.[3] Yep, asiaticoside benefits go far beyond expectations; the reason is often referred to as a cure-all herb. From scavenging free radicals, recouping skin moisture, enhancing the protective barrier to boosting collagen, and repairing skin, there's not much asiaticoside can't do. [4, 5]
BENEFITS OF ASIATICOSIDE FOR SKIN
Moisturizes
Calms & soothes inflammation
Regenerates
Boosts collagen
Neutralizes free radicals
Repairs skin barrier
Speeds up wound healing
ASIATICOSIDE USES FOR SKIN
To get most of the asiaticoside benefits for skin, you should use it in your daily skincare routine, AM and PM. As a gentle ingredient, it teams up incredibly well with all other skincare actives, even the less mild ones (think retinol, vitamin C, AHAs, and salicylic acid). 
Asiaticoside is added to all skincare steps, from cleansers to moisturizers and masks. To ensure you're benefiting from all of its perks, smear asiaticoside-filled serums AND moisturizers on your face. While a serum shoots benefits right in, a moisturizer sits on top of the skin, trapping hydration, and repairing the protective barrier.
WHAT IS CENTELLA ASIATICA USED FR?
Centella asiatica's benefits for skin revolve around its rich content of flavonoids, fatty acids, volatile oils, amino acids, and sugars — all of which have antibacterial power, stimulate fibroblasts' proliferation, induce collagen production and speed up wound healing. That's the reason Centella asiatica is widely added to skincare products that target photoaging, acne, moisture loss, a broken skin barrier, and address even the most sensitive skin types, eczema and redness-prone included. [6]
WHAT DOES CENTELLA DO TO SKIN?
When applied to the skin, Centella asiatica gives a cocoon of moisture that's both soothing and calming. Additionally, it activates collagen production and defends against oxidative stress due to its rich flavonoid content while working hard to reinforce the protective barrier. Last but not least, Centella Asiatica reduces sensitivities, so it's a great addition to your routine if you're struggling with itchiness or redness.
CAN CENTELLA ASIATICA REPAIR SKIN BARRIER?
Yes, Centella asiatica is one of the most hard-working ingredients that repair the protective barrier. Centella asiatica restores a compromised skin barrier and strengthens it against further damage thanks to its collagen-inducing power and high moisturizing action. More collagen and moisture means firmer, stronger, and more elastic skin, which equals an integer skin barrier.
DOES CENTELLA ASIATICA HELP ACNE SCARS?
The collagen-boosting benefits of Centella asiatica not only strengthen the protective barrier, but help acne scars too! That's because it enhances collagen while promoting fibroblast proliferation. This plays a pivotal role in tissue regeneration, and increases glycoproteins — a sugar and a protein needed for skin renewal.[7]
IS CENTELLA AN ANTIOXIDANT?
Centella asiatica is popular for its antioxidant activity thanks to the rich content of polyphenols. Actually, the antioxidant power of cica is similar to that of vitamin C, which is among the pillars of antioxidants.[8] As you know, UV rays are the main culprit of oxidative stress in the skin that cause collagen breakdown. Guess what? Centella asiatica shields against UVB damage — however, this doesn't mean you should be skipping sunscreen.[9]
THE SHELF LIFE OF ASIATICOSIDE 
Asiaticoside shelf life is highly influenced by the storage conditions, like most skincare actives. According to experiments, asiaticoside degrades approximately 20% within twelve weeks when stored in a dark, cold place, where increasing storage temperature accelerates the degradation rate.[10]
In short, your skincare products need an anti-degradation system to keep efficacy in and elements out.
FIND THE BEST ASIATICOSIDE PRODUCT FOR YOU
Finding the best asiaticoside products that truly make a difference is challenging. But we did the hard work and created the Calm Revival Green Tea Resveratrol Serum, infused with asiaticoside, along with other skincare actives, such as resveratrol, green tea, and hyaluronic acid, to reveal the best version of your skin, while keeping it shielded against oxidative stress. Also, we've prepped for you a bunch of skincare products spiked with Centella asiatica, clinically proven to deliver the benefits they claim. 
Words By: Ana Vasilescu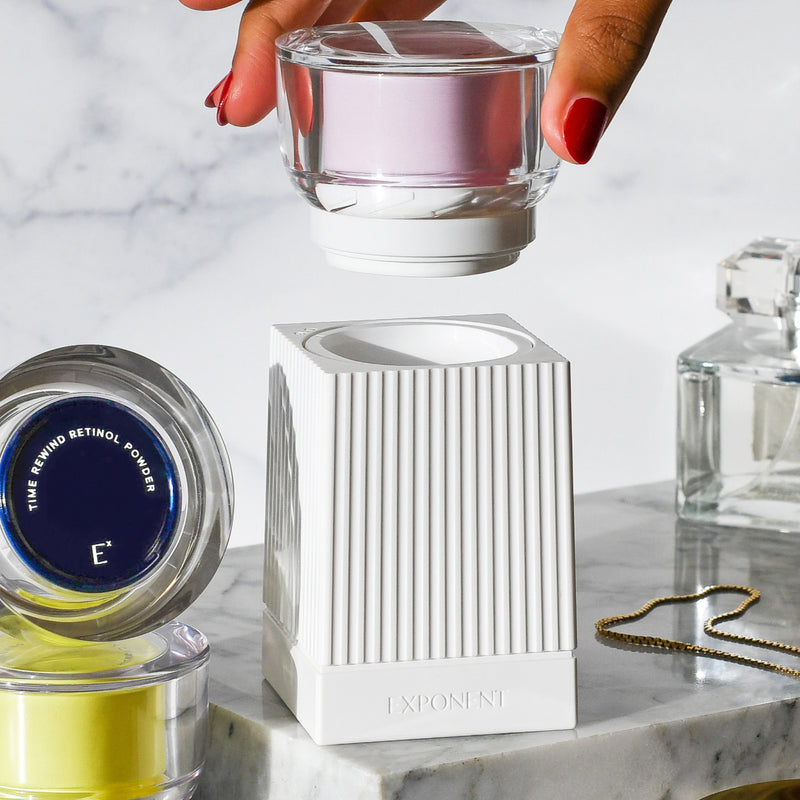 MIXED FRESH AT PEAK POTENCY.
Powered by clinically-proven, pure Active Powders combined with a Hyaluronic Acid Hydrator, our Superior Serums are made fresh in an instant at peak potency.
SHOP NOW