Active Ingredients: Concentration Matters
Research
The Standard
Vitamin C
Share on:
by Exponent Beauty / May 16, 2023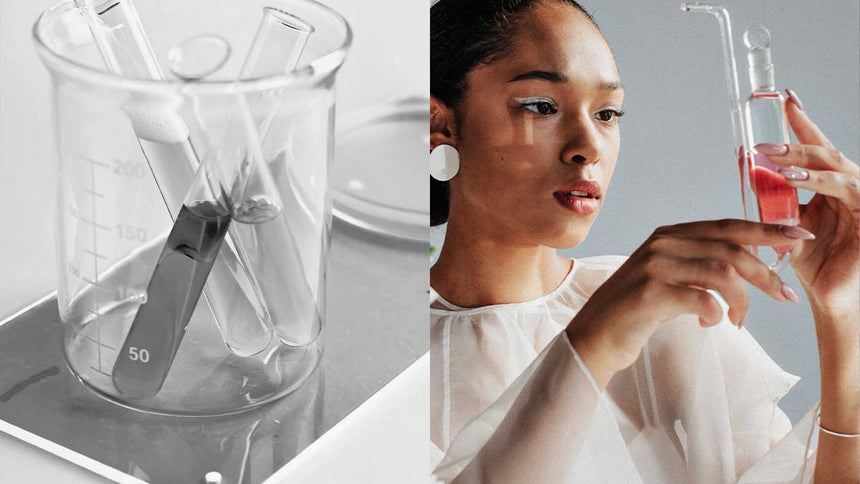 You just bought a best-selling Vitamin C serum and you're pumped to try your new, dewy delight. Enter Exponent. Cue the buzzkill. Two unfortunate truths — just because a product contains an active ingredient, doesn't mean it contains enough to do anything for you. Second, the most effective ingredients in skincare are often antioxidants which are fragile and degrade quickly when mixed with water (one of the most common skincare ingredients). So the question is — how much Vitamin C is your serum starting out with and how much remains over the useful life of the product? You know, like when you're actually using it.
DIRTY LITTLE SKINCARE SECRET
If we sound a little jaded, it's not because of one bad date. Try hundreds. Yep, after a sneaking suspicion our skincare "matches" were feigning facts, we put on our big girl pants and did a little research. We conducted an independent study with a third party lab — a leading analytical testing facility for the Beauty, Personal Care & Nutrition industry — to measure the concentration of active ingredients like Vitamin C, Retinol, and CoQ10 in the top 25-selling clinical skincare products from Day 1 when the consumer opens it through Day 60.
The results weren't pretty. 
60% had a starting concentration below the limit needed for any efficacy at all
Active ingredients degraded by 40% on average within 8 weeks 
On Day 1 (when the product was first opened) the concentration of active ingredients was 30% lower than what the brand claimed
Clean formulation products degraded 4.5X faster
Independent studies conducted by Micro Quality Labs, Burbank, CA (Oct 2020 & Feb 2021), commissioned by Exponent Beauty.
2-PART PROBLEM
While the rate of degradation shocked us, the culprits — air, water, light — hailed back to chemistry class, reminding us that once jars and bottles are open, those active-but-fragile ingredients have a very short lifespan. 
What further flipped our world was not just an active ingredient's short lifespan, but that the top-selling products we tested, weren't active to begin with. The active ingredient was clearly listed but 60% of the concentrations fell short of the baseline. 
FLYING UNDER THE RADAR
How is this possible? Simple. The skincare world has very few rules, making it impossible to hold anyone accountable. "You can buy a vitamin C serum and find out it only has one to two drops of the active ingredient, with the rest of it being water," says Rex Chou, the founder of skincare brand Ghost Democracy, "just so they can claim, 'serum with vitamin C!'" This is a common industry practice, and cosmetic chemists call it "fairy dusting" or "pixie dusting," because they sprinkle a little bit of a buzzy beauty ingredient into an otherwise bland base. [1]
Which is why percentage trumps perception.  
Board-certified dermatologist, Dr. Erum Ilyas, urges patients to pay close attention to labels. "I educate my patients to look at ingredient labels more so than the front of the package," Ilyas said. "Look for products to contain certain ingredients that we know based on medical studies are effective. Look for percentages as well."
Ilyas explains, "There's a big difference between a product that has salicylic acid versus one that says it has 2 percent salicylic acid. It could be just a splash or sprinkle of an ingredient you use but not enough to have a clinical effect." [2]
FINDING A SOLUTION
While the ingredient investigation may feel more daunting than ever (we're a hoot at cocktail parties), we do have a few tips for navigating your next purchase. 
Order of Ingredients
Read the entire ingredient list. The FDA requires cosmetics brands to list any ingredients that make up more than one percent of the formula in descending order (save the ingredients that comprise fragrances). The ingredients that make up the bulk of the formula go first and those that are just sprinkled in go last. So if your Vitamin C serum lists Vitamin C (or L-Ascorbic Acid) near the end of the list, move on.[3]
Ingredient Concentrations
Familiarize yourself with ingredient concentrations. Know which percentage is proven to be effective or check out our Legit List and we'll tell you!
Clinical Testing vs Consumer Perception
It's easy to get caught up in the hype but important to recognize misleading terms. When a brand says their product has been "shown" to firm your skin, that claim can only be based on very subjective consumer perception.[4] Check out the language to look for. 
OUR BRIGHT SOLUTION
At Exponent, we not only revealed the issues with active ingredients in skincare, we also developed a first-of-its-kind solution to stop the madness. Our skincare system preserves fragile active ingredients—including Vitamin C—in their most potent powder state (protected from air, water, and light), so the ingredients can keep their power indefinitely. When you self-activate our Vitamin C Active Powder with our Quadruple Hyaluronic Acid Hydrator, that dewy-fresh dose will always perform at an optimal level. No degradation. No dilution. Just dramatic results.
Words By: Holly Brown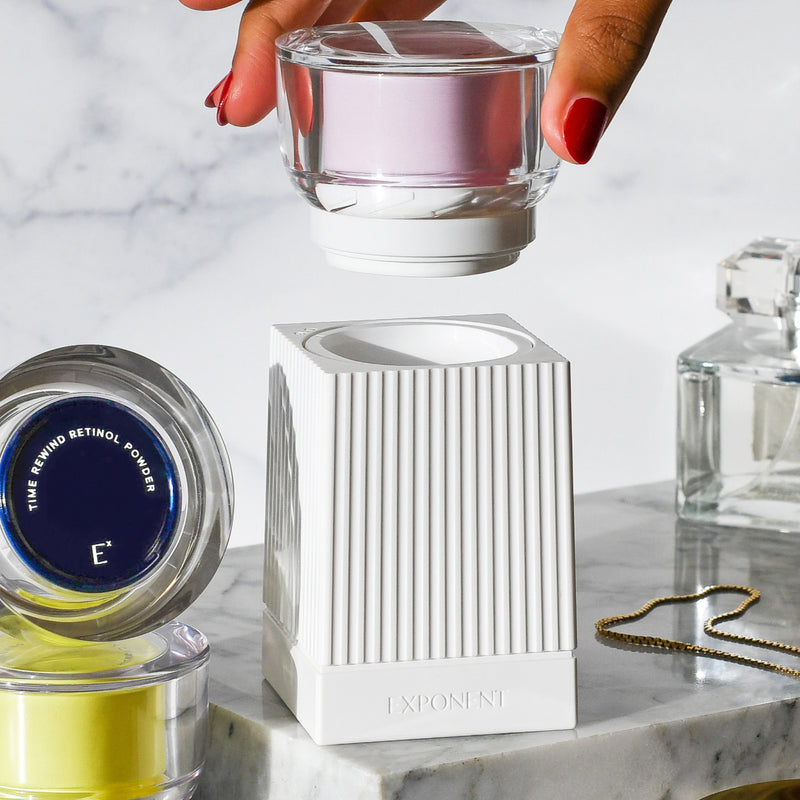 MIXED FRESH AT PEAK POTENCY.
Powered by clinically-proven, pure Active Powders combined with a Hyaluronic Acid Hydrator, our Superior Serums are made fresh in an instant at peak potency.
SHOP NOW