Resveratrol for Skin: Overview & Benefits
Ingredients
Research
Resveratrol
skin
Skin Care
Share on:
by Exponent Beauty / Jan 21, 2022
As the skincare (and red wine) lover that you are, you're most likely no stranger to resveratrol, the one compound in grape peels chock full of great-for-skin antioxidants. You might have even tried skincare products infused with resveratrol, but how much do you really know about what it does and what resveratrol is used for? 
Let's cut right to the chase: resveratrol benefits go way further than its antioxidant ability, as a fantastic multitasker in skincare. Good at smoothing fine lines and wrinkles, boosting elasticity and firmness, and calming skin, resveratrol is the new hero from your bathroom cabinet. But where do all these benefits of resveratrol for skin come from? Buckle up; you're about to find out the fascinating facts on resveratrol for skin and overall health.
What is Resveratrol?
Resveratrol is a natural polyphenolic compound — found in grapes' skin, red wine, berries, peanuts, and dark chocolate — with intense antioxidant activity. As you know, the role of antioxidants is to prevent cell damage caused by free radicals and encourage the skin's rejuvenation process. Without antioxidants, free radicals speed up skin aging, so more wrinkles, more dark spots, less firmness, and elasticity. Due to its high antioxidant capacity, resveratrol benefits in skincare are associated with protecting cells from oxidative damage, UV rays, and other free radicals, slowing down the photoaging process. This makes resveratrol a must-have in your skincare routine. 
Also known as the longevity molecule, resveratrol has been found to extend lifespan (and healthspan) in some animal species due to its benefits upon modulating certain enzymes that influence cell survival and DNA repair process.1  In nature, resveratrol has a key role in protecting plants from UV light, infections, and other environmental foes. 
What Does Resveratrol Do for Your Face? 
I wasn't overestimating resveratrol when I said it's a fantastic multitasker. Science serves as proof that there are many more benefits of resveratrol for skin than being a potent antioxidant. When applied topically, resveratrol stimulates fibroblasts' proliferation activity, contributing to collagen production in the skin.2  Resveratrol smoothes wrinkles and boosts elasticity and firmness, making it a potent anti-ager. Moreover, thanks to its calming and anti-inflammatory properties, resveratrol is great for sensitive skin, too.
Benefits of Resveratrol for Skin
Neutralizes free radicals

improves fine lines and wrinkles

Firms skin

Enhances elasticity

Protects against UV irradiation

Reduces dark spots

Antibacterial 

Anti-inflammatory
How to Use Resveratrol for Skin
Resveratrol is a superstar in many skincare products, but you get the most from serums since they're able to go beneath the skin surface thanks to their itsy bitsy molecules. You may not know it, but resveratrol is a light-sensitive compound. Thus, to gain most of the resveratrol benefits, add a resveratrol serum to your nightly skincare routine — consistency is key. With cleansed and toned skin, massage your resveratrol serum, and apply moisturizer. Now you can hit the hay at ease, knowing you'll wake up to a strengthened antioxidant defense system.
Bonus: if you're trying to get rid of dark spots, use resveratrol with glycolic acid — mixing these has a depigmenting effect.3 
Topical resveratrol is so lauded in skincare thanks to its ability to penetrate the skin barrier entering into different layers of the skin. Its antioxidant capacity goes into the inner layers, reinforcing the skin's natural defense against free radical damage.4  In other words, when you apply topical resveratrol, it not only scavenges free radicals but it bursts the skin's antioxidant levels to help it defend itself better.
Resveratrol supplements are not to be neglected either since they possess plenty of health benefits. Supplements with resveratrol increase cellular defense against oxidative stress and have antimicrobial, anticancer, blood-sugar-lowering, neuroprotective, anti-aging, and cardioprotective benefits.5  
How Much Resveratrol Should You Take Daily?
Resveratrol is well absorbed and tolerated when taken orally, namely with resveratrol supplements.6  You can take resveratrol supplements in doses up to 1500 mg daily for up to three months. However, to play safe, talk to your doctor about how many resveratrol supplements you should take and for how long because they might interact with blood thinners, aspirin, or ibuprofen. 
The Shelf Life of Resveratrol
No matter how hard you try to store your skincare products in dark and cold places, chances are, most ingredients degrade rapidly, making your products ineffective. 
Resveratrol is easily deactivated by light, and it quickly degrades at high temperatures, compromising the shelf life of resveratrol. And if your resveratrol is in a natural formula that lacks a proper preservative system or protective packaging, most likely, it deteriorates before you know it — the naked truth. 
Does Resveratrol Lose Potency Over Time?
Resveratrol quickly loses potency when poorly packed skincare products allow air and light to touch the formula. Unfortunately, resveratrol doesn't have a long shelf life for the simple fact that it's an antioxidant. 
Antioxidants oxidize fast when exposed to light, air, and temperature changes, and not even an amber bottle can't stop that from happening. Every time you open your resveratrol serum, it degrades with each use, oxidizing and losing its antioxidant and protective capacity. 
And since most skincare brands make formulas filled with water and use packaging that allows air and light in, it's no surprise free radicals wreak havoc on your skin.
Find the Best Resveratrol Product for You
At Exponent, our mission is to set a new standard for effective skincare so you can cut through the clutter and choose products that actually work. Use our Product Recommendation List to find the best resveratrol skincare, clinically proven to meet our Full Of Standard for efficacy. Here's to skincare that's active, not acting. 
Coming Soon: The first self-activated skincare line inspired by our Full Of Standard. 
Words By: Ana Vasilescu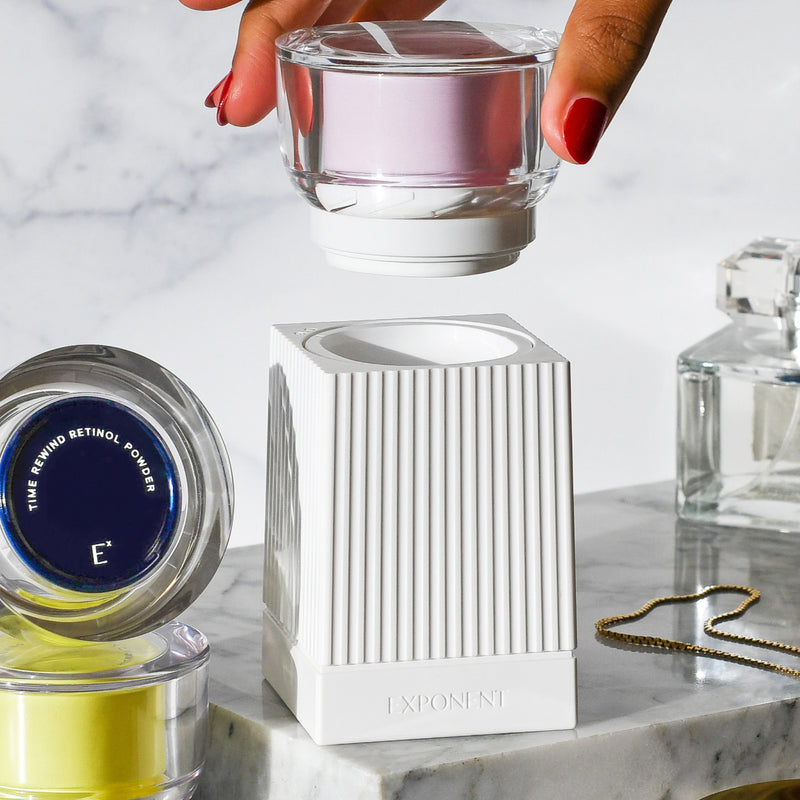 MIXED FRESH AT PEAK POTENCY.
Powered by clinically-proven, pure Active Powders combined with a Hyaluronic Acid Hydrator, our Superior Serums are made fresh in an instant at peak potency.
SHOP NOW