Your Exponent System Questions, Answered
Share on:
by Exponent Beauty / Jan 12, 2023
For so long, activated-in-the-moment skincare was a practice strictly reserved for estheticians as a way to fuel clients' skin with the most potent ingredients possible. Now that we've brought this capability to your everyday experience, there's bound to be a short learning curve. After all, our patented Self-Activated Skincare is a departure from typical skincare that's been bottled up and watered down (and therefore starts degrading from the moment you open it.)
For the first time, Exponent puts the freshest, most potent active ingredients in proven, precise doses at your fingertips, so you can self-activate and apply them in their most effective form every single day.
This is a new concept in skincare and we want to ensure you are armed with knowledge to achieve mind-blowing results.
Here are some answers to the questions we get asked frequently.
1. WHAT'S THE DIFFERENCE BETWEEN ACTIVE POWDER ADD-ONS AND ACTIVE POWDER REFILLS?
You always start with Active Powder Add-Ons.
The Active Powder Add-On is your initial ticket to a new serum– let's say Vitamin C or Retinol- to be used with the Hydrator and white Base that is included in your Starter System. Add-Ons include: 
Active Powder (colored glass jar) 
Globe (clear acrylic piece)
Precision Dispenser wheel (white screw top) 
White Rubber Cap
This ensures you don't have to trade the dispenser out (can you imagine switching out open powders? We would never!) between two different Active Powders and avoids any degradation. Remember: You can use multiple Active Powder Add-Ons with the same Self-Activating Base & Hyaluronic Acid Hydrator.
When your existing Powder jar runs out, go for Active Powder Refills.
When you run out of an Active Powder, you will replenish with an Active Powder Refill of the same kind. Just pop it into the Globe & Powder Dispenser wheel you already have from the Add-On. 
2. WHAT OTHER PRODUCTS CAN I USE WITH MY EXPONENT?
Exponent Superior Serums can be used to elevate any skincare routine. We suggest applying your products in this order for optimal results:
Cleanser
Exponent Superior Serum
Moisturizer
SPF in daytime 
3. WHERE CAN I FIND MORE INFORMATION ABOUT THE ACTIVE INGREDIENTS I'M USING?
Our blog, The Dose, is packed with pertinent, science-based information about skincare. Browse below for a mini masterclass on each of our active ingredients:
4. ARE EXPONENT PRODUCTS RECYCLABLE?
Absolutely—all of our packaging and componentry is made with circularity top of mind. 
Our outer packaging and shipping materials come from an FSC-Certified paper mill, which means it comes from post-consumer recycled or reused materials. Our glass jars are painted only on the surface, so the color melts off in the recycling process. This prevents any issues that sometimes can occur when recycling colored glass. Our jar caps are made with aluminum, a material that can be infinitely recycled without losing any quality over time. And even our refillable and reusable Activator Base, Globe & Dispenser can be recycled at end of life through our hard-to-recycle partnership with Pact Collective. 
5. DO EXPONENT PRODUCTS HAVE FRAGRANCE?
Our Active Powders do not contain any fragrances, but they do include a trace amount of essential oils used at a low level (<1%) that have been tested as safe for sensitive skin.
Brightening Boost Vitamin C Active Powder: Mandarin orange essential oil with a subtle citrus aroma
Time Rewind Retinol Active Powder: Lavender essential oil with soothing properties and a subtle, calming, herbal aroma
Firming Filter CoQ10 Active Powder: Rose essential oil with a subtle floral aroma
Green Tea Resveratrol Active Powder: Chamomile essential oil with soothing properties and a subtle apple-like aroma
Clear Comeback Probiotic Enzyme Active Powder: Rosemary leaf essential oil with purifying properties and a subtle, refreshing, herbal aroma
6. HOW CAN I MAKE SURE I DON'T RUN OUT OF HYDRATOR OR MY FAVORITE ACTIVE POWDER(S)? 
Set your skincare on auto with our subscription option. In addition to getting 10% off, you can customize your delivery dates, frequency, and shipping address as needed. Need to skip a month or pause? Not a problem. Ready to subscribe & save? Click here.
Still scratching your head? Intrigued to try it? We are here to help you every step (and dose) of the way. Please reach out to us at hello@exponentbeauty.com.
We promise it will all "click" soon—and it will be SO worth it.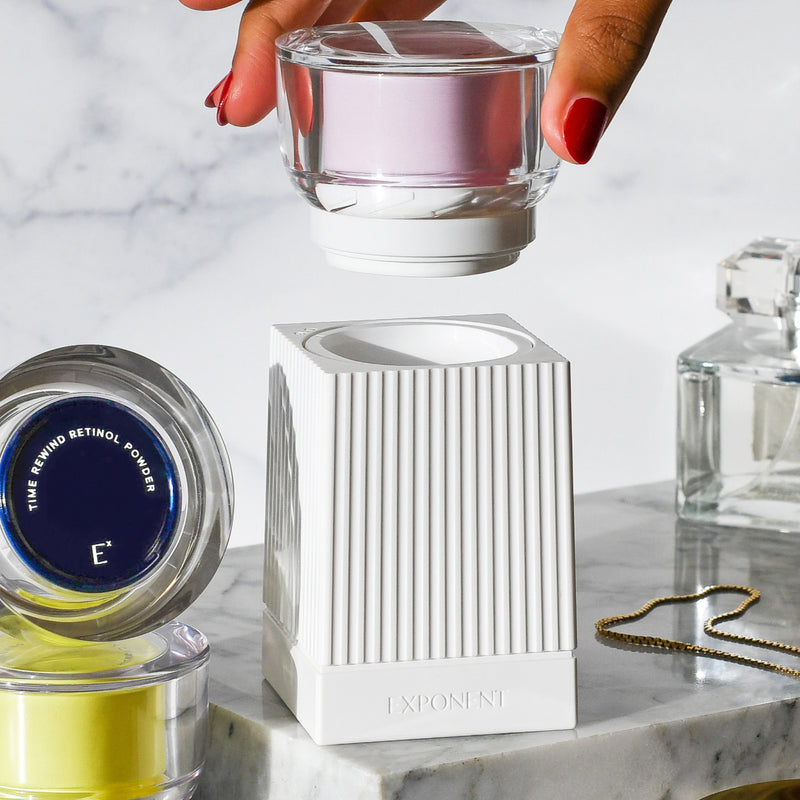 MIXED FRESH AT PEAK POTENCY.
Powered by clinically-proven, pure Active Powders combined with a Hyaluronic Acid Hydrator, our Superior Serums are made fresh in an instant at peak potency.
SHOP NOW