Step-by-Step: How To Use Vitamin C Serum
Share on:
by Exponent Beauty / May 03, 2022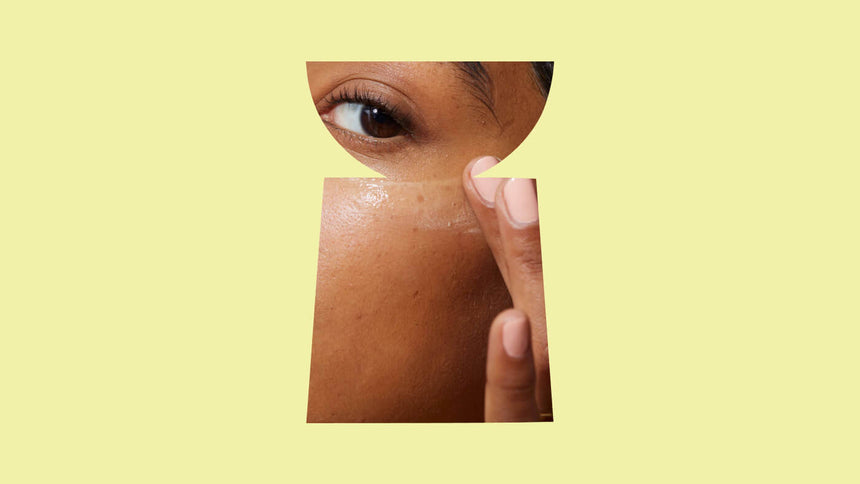 We need to talk about how to use vitamin C serum. As vitamin C has gained so much popularity in the skincare world, it has become crucial to understand how to best reap the endless benefits of this do-it-all powerhouse. Buckle up; we'll break down how and when to use vitamin C serum, as well as some tips to make it more effective so you'll soak up its perks to the very best degree. 
Benefits of Vitamin C Serum
Antioxidant. Collagen booster. Brightener. Vitamin C is your BFF for overall healthy skin as it fights on multiple fronts, from protecting to repairing and evening. We already talked about the benefits of vitamin C, but here is a brief list to refresh your memory on what this hero ingredient of any skincare routine can do: 
Delays premature skin aging 
Evens skin tone 
Anti-inflammatory 
Stimulates collagen production 
Helps skin retain moisture 
How To Apply Vitamin C Serum
Thanks to its powerful antioxidant ability, vitamin C is a versatile component of many skincare routines. We recommend layering vitamin C serum into your AM routine to prevent premature aging caused by free radicals, and applying vitamin C serum at night when skin is in a natural repairing state while you Zzz.
Alternatively, if your skin is rather sensitive, we recommend you only apply vitamin C serum at night as, during the day, it might make your skin prone to redness and sunburn. Alicia Yoon, licensed esthetician in both New York and Korea explains, "Those with sensitive skin sometimes find that using it during the daytime can cause irritation thanks to the lower pH level typically found in vitamin C products… being out in the sun can exacerbate the irritation."[1]
When to Apply Vitamin C Serum
Generally speaking, the best time to apply vitamin C serum is in the morning, after cleansing and toning your complexion, and before moisturizer and SPF. If you want to maximize the perks, and don't have overly sensitive skin, you can apply it in the morning and evening. 
See below for a step by step application for AM and PM routines:
AM
Cleanse: remove oil and dead cells 
Tone: refresh skin 
Use vitamin C serum
Moisturize: add hydration and trap moisture 
Sunscreen: at least SPF 30 with UVA and UVB protection 
PM
Cleanse: wash away makeup, sunscreen, and dust 
Tone: clear traces of makeup, dirt, and bacteria 
Spot treatment: tackle pimples or dark spots 
Layer vitamin C serum 
Moisturize: trap everything in 
How To Determine the Right Vitamin C Serum Concentration For Your Skin Type
Knowing the right vitamin C concentration for your skin type is essential to maximizing effectiveness. In the skincare aisle, you'll find vitamin C in up to 20% concentrations. 
If your skin is sensitive or dry, you should use a low concentrated product; somewhere between 5 to 10% will do. You can gradually work up the concentration to 15% and keep note of how your skin responds. Normal, combination, and oily skin types can usually handle concentrations of 20%, but use progressively to help skin build tolerance.
How Often Should You Use Vitamin C Serum?
Applying vitamin C serum every day is key for maximum protection and repair. Persistent, daily vitamin C use is perfectly safe as part of your morning and evening skincare rituals. In fact, studies recommend applying vitamin C serum twice daily or even every eight hours for enhanced benefits.[2]
When Will You See the Results of Vitamin C Serum?
With Vitamin C, results are cumulative and take several months to become visibly apparent. Long-term diligent use of vitamin C serum is a must, especially if you're aiming to brighten stubborn dark spots or reduce the visibility of fine lines and wrinkles. It's been shown that daily use of topical vitamin C for at least three months improved the look of wrinkles as well as skin texture and overall appearance.[3]
Vitamin C Serum: Before and After
In a clinical test, twenty-eight women applied our Brightening Boost Vitamin C Serum for four weeks. As you can see, there's a significant reduction in the look of fine lines, while firmness, texture, and overall brightness were also improved. Cheers to results raised to your level! 
How To Store Vitamin C Serum
As far as our fondness for vitamin C goes, the less pleasant part is that it's a notoriously unstable element, easily rendered inactive by exposure to sunlight and oxygen.[2] Hence, knowing how to store your vitamin C serum is crucial to avoid its degradation and ineffectiveness. For the best, you should keep your pre-formulated vitamin C serum in a cool, dark space — the fridge is a good place to maintain its freshness and efficacy as long as possible. But that's not the case for our self-activated Brightening Boost Vitamin C Serum since the package never allows light, air, or heat to get into the formula. 
Potential Side Effects of Vitamin C Serum
Vitamin C serums are safe to use, but it's always better to do a test patch when adding a new product into your routine to observe how your skin reacts to it. In rare cases, people with sensitive skin experience tingling, redness, or itching after applying vitamin C to the skin. 
Recommended Vitamin C Serum Pairings
As a versatile ingredient, vitamin C pairs nicely with most skincare actives. For instance, if you want a solid antioxidant defense, pair vitamin C with vitamin E and ferulic acid. It's been proven that these two vitamins stimulate each other's antioxidant power, and ferulic acid is an antioxidant booster that doubles the ability to fight free radicals of vitamins C and E. This triple threat will help you keep premature aging signs at bay.[4]
Other winning duos? Keep scrolling: 
How To Use Vitamin C Serum and Retinol
When two skincare heroes meet in your routine is the secret weapon for putting skin issues to rest — case on point: how to use vitamin C and retinol. They are both great at thickening skin by promoting collagen and even tone and have excellent abilities to neutralize free radicals and boost the antioxidant defense system, so they're essential sidekicks you need to use in tandem. Given that retinol should be used at night, layer your vitamin C serum in the morning and leave the retinol product for PM use. 
Or, if you want to use them in the same routine (at night is advisable), you need to be aware of how to layer skincare products correctly. Yes, the rule of thumb is from thinnest to thickest, but pH matters too. As such, the most acidic product should go on first. So, smear on your vitamin C serum, wait 20 minutes and follow with retinol.
How To Use Vitamin C Serum and CoQ10
Using vitamin C serum with CoQ10 is another way to get the best version of your skin as they work similarly at reinforcing the antioxidant defense, fading dark spots, and inducing collagen. But how to use vitamin C serum and CoQ10 together? Given that vitamin C is water-soluble and CoQ10 is fat-soluble, vitamin C goes on first, followed by CoQ10. Or, you can use CoQ10 in the morning and vitamin C at night. You may start seeing visible improvement in as little as four weeks.
How To Use Vitamin C Serum and Resveratrol
Vitamin C and resveratrol work synergistically to create healthier-looking skin and a strong antioxidant defense, and their power should be celebrated by teaming them up. If you apply a vitamin C serum and a resveratrol-infused moisturizer, the serum should be layered first. If both are in serums, you should layer vitamin C first, then follow with the resveratrol serum as what's fat-soluble goes after water-soluble molecules. Vitamin C serum and resveratrol can be used in the morning as both are boosting each other antioxidant power so that you stay defended against free radicals throughout the day.
Exponent Products to Try
At Exponent, our mission is to set a new standard for effective skincare so you can cut through the clutter and choose products that actually work without worrying about the daily environment deactivating them. For us, lost actives are a lost cause. So, do yourself (and skin) a favor and try our Brightening Boost Vitamin C Serum. And, in case you want to give your skin a jumpstart and help protect, firm, even, and smooth it some more, pick the Firming Filter CoQ10 Serum or the Calm Revival Green Tea Resveratrol Serum and pair them together to enhance their effects.
Words by Ana Vasilescu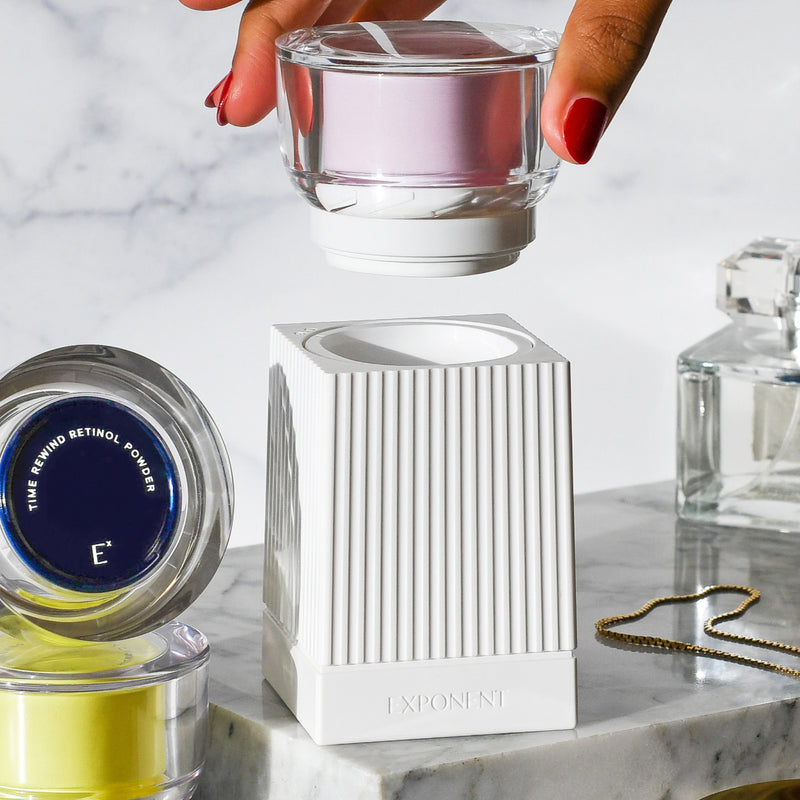 MIXED FRESH AT PEAK POTENCY.
Powered by clinically-proven, pure Active Powders combined with a Hyaluronic Acid Hydrator, our Superior Serums are made fresh in an instant at peak potency.
SHOP NOW