How To Use Retinol Properly and Unlock Its Maximum Benefits
Hyperpigmentation
Ingredients
Retinol
skin
Skin Care
Share on:
by Exponent Beauty / May 25, 2022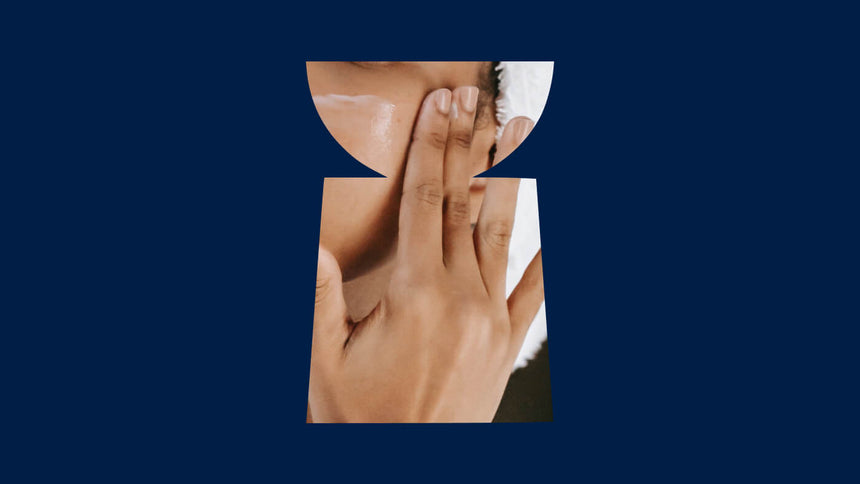 A beloved skincare staple, retinol is your forever go-to whether you want to address aging signs, acne, or hyperpigmentation. Despite it being as good as it is, we all know retinol isn't the easiest ingredient to use, but don't let that deter you from adding it to your routine. You would miss out so much! We created a guide on how to use retinol serum so that you can relish in its benefits without the irritation that often comes with it.
What are the Benefits of Retinol?
We discussed the benefits of retinol, but here is a brief reminder so that you recognize once again why you need this powerhouse in your routine:
Reduces fine lines and wrinkles 
Encourages cell turnover
Refines texture
Fades dark spots and sun damage
Helps clear acne
How To Apply Retinol Serum
It is advised that you apply retinol with extra care after cleaning your face. As retinol speeds up cell turnover at an accelerated rate, it can irritate skin and cause unwanted flakiness. To offset irritation and dryness, ensure you use a replenishing moisturizer infused with skin-regenerating ingredients such as peptides, ceramides, and hyaluronic acid after layering retinol.
Apply products in this order for best results.
1) Cleanser: Scrub with a gentle facial cleanser to remove sunscreen and impurities
2) Toner: Use a toner to energize skin and remove traces of debris
3) Retinol: Apply retinol serum cautiously to problem areas avoiding the eye area
4) Moisturizer: Apply a fragrance-free facial moisturizer to lock everything in
Important to note that retinol is photolabile, aka it breaks down easily with sun exposure, becoming ineffective and limiting its benefits. Retinol can also make your skin photosensitive and susceptible to sun damage. So the best time to apply retinol is at night.
Pro tip: Wait for your skin to dry completely before applying retinol. If used on damp skin, retinol sinks deeper, increasing the risk of irritation.
When to Apply Retinol
The best time to apply retinol is in your PM beauty ritual on cleansed, dry skin before moisturizer. Doing so allows retinol to work the night shift in conjunction with the natural skin repairing process while you sleep. And that's how you wake up to smooth, vibrant skin.
What is the difference between a Retinol & Retinoid?
Retinoid is a clinical term that refers to all over-the-counter and prescription vitamin A derivatives commonly used to encourage cell turnover in skincare. Retinol is retinoid found in over-the-counter formulas, in concentrations of up to 2% used to reduce aging signs, acne, even tone, and smooth skin. The main difference between retinol and retinoid is strength.
How Often Should You Use Retinol?
How often to use retinol depends on the product at hand, strength, and how accustomed you are to retinol. Are you a retinol newbie? Then start off slow, with one time per week, and gradually work your way up to every third night, allowing your skin to adjust. Celebrity esthetician and trusted skincare expert Renée Rouleau says, "Since retinol is pushing up skin cells to the surface at a faster rate, retinol can cause micro-peeling (invisible peeling) in most skin types, so it's important not to use it every night."[1]
When Will You See the Results of Retinol?
With retinol, results can be visible from the first use in the case of clogged pores and dead cell micro-exfoliation. However, if you're using retinol to diminish wrinkles and fade hyperpigmentation, long-term use is what you need to see visible improvement. 
We recommend using retinol diligently for at least twelve weeks to help boost collagen, thicken skin, and minimize wrinkles. Applying retinol regularly for eight to sixteen weeks will also bring you closer to an even tone. In case of acne, we suggest you use retinol for two to six weeks to notice progress.[2][3] The outcomes can alter from person to person and can appear sooner or later than expected.
Potential Side Effects of Retinol
Retinol pushes cells up to the skin's surface at a fast rate. This is why most people experience side effects when using retinol for the first time, such as dryness, flakiness, and sometimes irritation. However, the way to avoid the potential side effects of retinol is to start low and slow to help your skin build tolerance.
Recommended Retinol Pairings
Knowing how to use retinol also means learning how to integrate it into your routine with other skincare actives to obtain the best-in-class skin. Before we go any further, you should know that using retinol with alpha-hydroxy acids, salicylic acid, or benzoyl peroxide is a no-no as they can cancel each other effects or even irritate your skin. Here's what you CAN use:
How To Use Retinol and Vitamin C Serum
When combined, retinol and vitamin C minimize the look of fine lines and wrinkles, while increasing skin thickness, firmness, and elasticity thanks to their collagen-inducing abilities. 
As a bonus, with retinol's power to encourage cell turnover and vitamin C's tendency to interfere with the melanin production, they improve tone and fade dark spots, revealing luminous skin when used in tandem. 
Also, since both retinol and vitamin C are antioxidants, they increase each other's power to defend your skin against oxidative stress and early wrinkles. A study showed that topical application of retinol and vitamin C could reverse chronological aging signs and photoaging.[4]
The best way to use retinol and vitamin C serum together is to layer retinol at night and vitamin C in the morning. That's how you get antioxidant protection, collagen-boosting, and brightening benefits from both without risking the irritation of your skin. However, if you want to use them both in your PM routine, start off with the most acidic ingredient, hence vitamin C, wait 20 minutes so that your skin pH goes back to normal, and follow up with retinol.
How To Use Retinol and Hyaluronic Acid
Using retinol and hyaluronic acid in the same routine is one of the greatest treats for your skin. This is because retinol can be pretty aggressive to the skin, and pairing it with hyaluronic acid helps keep the potential dryness and flakiness at bay. On top of that, using retinol and hyaluronic acid together is a good way to achieve firmer, bouncier skin with less visible wrinkles, and a plump appearance. Retinol is great at enhancing the hyaluronic acid levels naturally found in the dermis. Hence, pairing it with hyaluronic acid, which also aids in increasing moisture, plumpness, and skin regeneration, you recieve double the benefits. Using these two powerhouses together increases collagen, elastin, cell proliferation, and hyaluronic acid within the skin, providing the proper environment for repairing photodamaged skin.[5] [6]
To apply this ultimate duo before you hit the hay: layer retinol serum, follow with a hyaluronic acid serum and a peptide-infused moisturizer to lock all the goodness on top. 
How To Use Retinol and Resveratrol
Retinol and resveratrol are a tremendous match, and they can be used together without worrying about irritations. While retinol is your ticket for smoother, softer, firmer, and evener skin, resveratrol is that gentle element that neutralizes free radicals, reduces dark spots, and increases elasticity. So, using retinol and resveratrol together helps with brightness, evens tone, and leaves skin more supple and resilient. Additionally, retinol and resveratrol are antioxidants, supporting one another and fortifying the defense needed against external damage.
While it would make sense to use resveratrol in the AM for antioxidant protection and retinol at night for repair, that is not the case. Resveratrol is a compound that gets easily deactivated by UV, hampering its protective benefits.[7] As such, you should use retinol and resveratrol together in your night skincare ritual to get the best of both worlds. How to use retinol and resveratrol depends on the products. If one is a serum and the other a cream, the serum goes first, followed by the moisturizer. If both are serums, we suggest layering resveratrol first, followed by retinol.
Exponent Products to Try
At Exponent, our mission is to set a new standard for effective skincare so you can cut through the clutter and choose products that actually work without worrying about the daily environment deactivating them. For us, lost actives are a lost cause. So, make up for lost time with skincare that's ahead of its time and try our Retinol Serum, which you can pair with Brightening Boost Vitamin C Serum or Calm Revival Green Tea Resveratrol Serum for skincare raised to your power.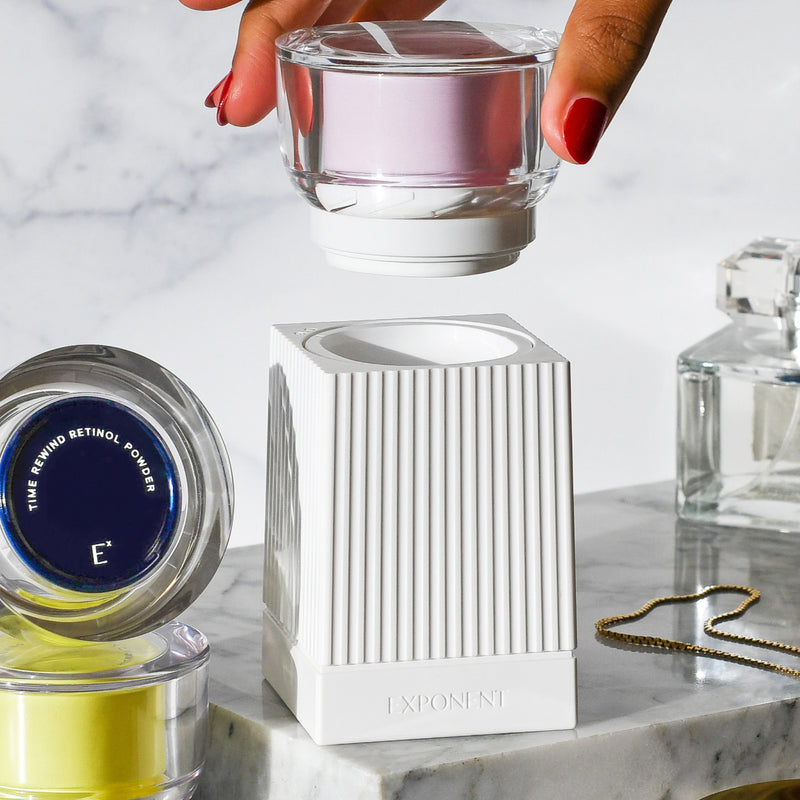 MIXED FRESH AT PEAK POTENCY.
Powered by clinically-proven, pure Active Powders combined with a Hyaluronic Acid Hydrator, our Superior Serums are made fresh in an instant at peak potency.
SHOP NOW