Exponent vs SkinCeuticals Vitamin C Face-Off
Share on:
by / Jan 13, 2023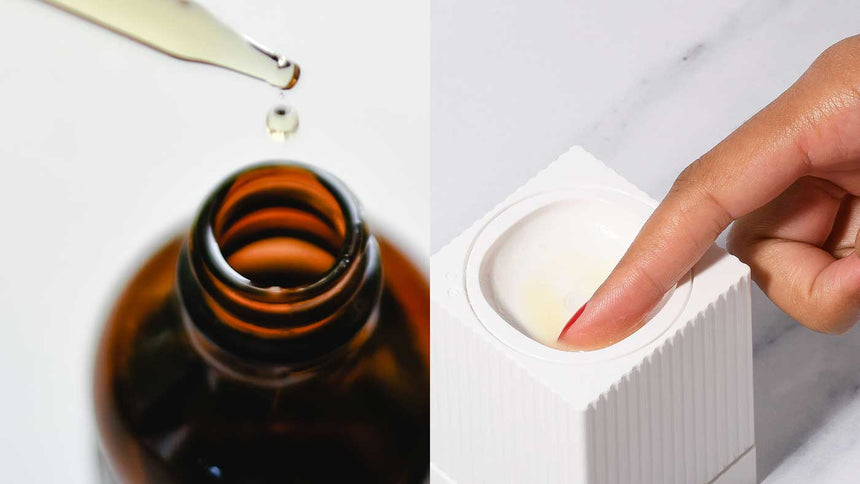 | | | |
| --- | --- | --- |
| | Exponent Beauty Brightening Boost Vitamin C Serum | SkinCeutical CE Ferulic Serum |
| Price | $166 ($156 for refills) | $169 |
| Concentration | 10% L-Ascorbic | 15% L-Ascorbic |
| Maintains Peak Potency Over Time | Yes | No |
| Clinical Results | Yes | Yes |
| Patented | Yes | Yes |
| Refillable | Yes | No |
Exponent Brightening Boost Vitamin C Serum features 10% L-ascorbic acid (pure form of vitamin C), along with a plant-derived free-radical busting antioxidant — quercetin — and shea butter, a well-known, non-comedogenic emollient that moisturizes deeply. 10% L-ascorbic acid is the optimal concentration of Vitamin C, proven in academic journals to deliver great benefits without irritation.[1]
The special thing about Exponent's Serum is that it's housed in a first-of-its-kind anti-degradation system. This impressive dispenser doesn't allow vitamin C to oxidize when exposed to air and light, giving maximum and consistent benefits from each dose over the entire life of the serum.  
The Exponent Beauty Brightening Boost Vitamin C comes in a patented precision-dosed package that dispenses the optimal active ingredient concentration to deliver clinical results without irritation. In clinical trials using measured instrumentation with a Visia Image Analysis Pro, 100% of subjects showed a clinically significant reduction in fine lines and wrinkles and an increase in skin firmness after 4 weeks. 66% of subjects showed a significant improvement in brightness and discoloration after 4 weeks.[2]
The patented Exponent Brightening Boost Vitamin C System is refillable and retails for $166. When you're ready to refill, it's only $88 for the Vitamin C Powder and $68 for the 1.52 oz bottle of Quadruple Hyaluronic Acid Hydrator.  Finally, the Exponent System is designed to be used interchangeably across all of Exponent's clinical serums. 
SkinCeuticals C E Ferulic is made with 15% pure vitamin C (L-ascorbic acid), along with 1% vitamin E and .05% ferulic acid. SkinCeuticals clinical testing claims that C E Ferulic is proven to reduce combined oxidative damage generated from UVA/UVB rays, ozone pollution, and diesel engine exhaust by up to 41%.[3] 
Since the active ingredients in this serum are pre-mixed, chances are the product will not maintain peak potency beyond 6-8 weeks. Despite the semi-opaque amber bottle, the antioxidants in the formula start to degrade due to exposure to light and air with each dropper use – telltale signs include the serum darkening in color and increasing in smell.  This serum costs $169 for a 1 oz bottle and is not refillable.
The takeaway
While both brands rely on tried-and-true actives, Exponent reaches for a different standard by focusing on the idea that skincare should deliver beneficial ingredients at peak potency every single time, be clinically proven to significantly change skin, and be easily refillable and recyclable. The Exponent Beauty Self-Activator System is designed to give you more bang (read: value and potency) for your buck than traditional skincare.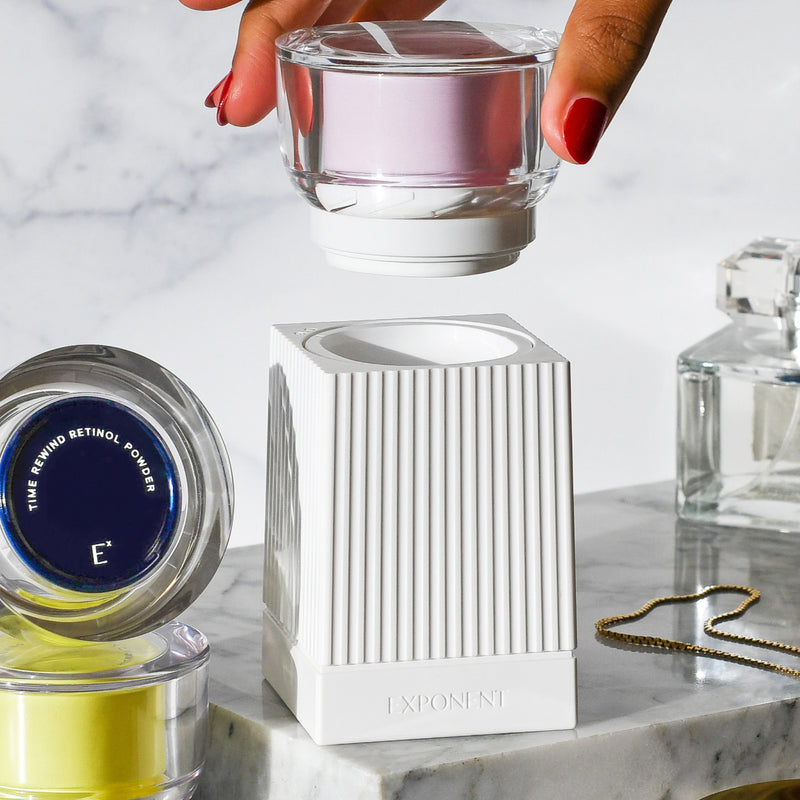 MIXED FRESH AT PEAK POTENCY.
Powered by clinically-proven, pure Active Powders combined with a Hyaluronic Acid Hydrator, our Superior Serums are made fresh in an instant at peak potency.
SHOP NOW