How To Use Resveratrol
Share on:
by Exponent Beauty / Jun 03, 2022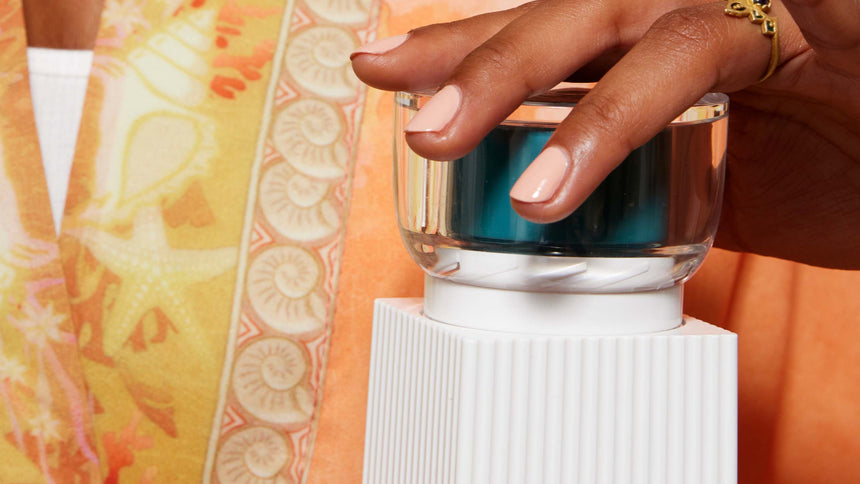 Daily protection against free radicals is non-negotiable, and for that, resveratrol stands out. Actually, it performs even better than vitamin C when it comes to neutralizing free radicals, helping prevent premature aging signs.[1] As a nature-derived, gentle ingredient, resveratrol is a must-have in any skincare enthusiast's routine. It's great for all skin types and its benefits aren't limited to offsetting oxidative stress. You've surely seen this powerhouse in one product or another, but do you really know how to use resveratrol to get the best out of it? Rest assured, we're here to teach you how you can achieve the most out of your resveratrol products and why it is worth being a staple in your skincare regimen.
Benefits of Resveratrol
We have already discussed the benefits of resveratrol and how great it is at neutralizing free radical damage from UV and pollution. Here is a brief reminder of the essential resveratrol benefits that will put you in the fast lane for healthy skin: 
Counteracts free radicals
Stimulates collagen production
Fades dark spots 
Increases firmness
Anti-inflammatory
How to Apply Resveratrol
You can find resveratrol in toners, serums, eye creams, and moisturizers, each working to improve and protect your skin. Resveratrol promises to deliver the most when whipped into a serum — the tiny molecules shoot the actives deeper into the skin for enhanced benefits. 
How to apply resveratrol:
Cleanse: remove sunscreen, makeup, and impurities
Tone: dissolve the remained debris and energize skin
Resveratrol: massage a resveratrol serum into the skin
Moisturize: lock everything in with a repairing cream
When to Apply Resveratrol
The best time to apply resveratrol is at night. Even if it would make more sense to use this antioxidant in the morning to stay protected during the day, resveratrol is light-sensitive. In other words, sunlight degrades resveratrol, rendering it ineffective.[2] Paired with good sleep, resveratrol fulfills its reparative and collagen-boosting benefits while reinforcing the antioxidant defense system, so you wake up to fabulous skin. 
Can You Wear Resveratrol During the Day?
You can wear resveratrol during the day, but it performs better when worn at night. Because resveratrol breaks down easily when exposed to sunlight, it's more useful when applied at night. Ava Shamban, MD, board-certified dermatologist in Beverly Hills and Santa Monica, explains that:
"...with antioxidants, particularly resveratrol, we can capitalize on the heightened nighttime repair function to maximize or boost antioxidant production within the skin cells, and even more so, we're also able to trigger fibroblast cells to in fact make more collagen."[3]
How Often Should You Use Resveratrol?
Resveratrol can be used every night without worrying about irritation since it's a gentle and calming ingredient. 
When Will You See the Results of Resveratrol?
Once you add resveratrol to your skincare routine, you may start seeing noticeable improvement in the first weeks. Soon after application it will begin strengthening the skin's ability to fight free radicals and offset premature wrinkles and dark spots. In terms of hyperpigmentation, resveratrol should be used for up to 6 to 12 months to show visible results, depending on how severe your condition is and your skin tone. 
For damaged, rough skin, the results of resveratrol might show after the first application. Thanks to its antibacterial and anti-inflammatory benefits, resveratrol soothes and relaxes the skin, relieving rough patches and calming the complexion.[4]
Potential Side Effects of Resveratrol?
As far as skincare is concerned, no study has found side effects of using resveratrol. Any skin type can use resveratrol since it is well-tolerated and non-irritating. However, it's always a good idea to do a test patch before going all-in with new skincare products.
In terms of supplements with resveratrol, they might interact with blood thinners, aspirin and ibuprofen, so talk to your doctor before taking resveratrol supplements.
Recommended Resveratrol Pairings
As good as resveratrol is when used on its own, its benefits are boosted when paired with other skincare actives. We'll teach you how to combine resveratrol with other skin-loving ingredients to achieve what you deserve: the best version of your visage. 
How to Use Resveratrol with Glycolic Acid
Resveratrol and glycolic acid make a great team if you want to get rid of dark spots, post-acne marks, and sun damage. Since both resveratrol and glycolic acid are inhibitors of tyrosinase (dark pigment-producing enzyme), they work synergistically to fade hyperpigmentation, revealing even tone and luminous skin.[5]
You know by now that resveratrol gets deactivated by sunlight and alpha-hydroxy acids make the skin susceptible to sun damage. Hence, your PM routine is the best time to pair resveratrol and glycolic acid. After cleansing, use a resveratrol-enriched serum and follow with a glycolic acid moisturizer, so they work together to vanish hyperpigmentation and firm skin. 
How to Use Resveratrol with Hyaluronic Acid
Mixing resveratrol with hyaluronic acid results in an anti-aging powerhouse. Each does its part to make your skin look its best: while resveratrol boosts collagen and increases firmness & elasticity, hyaluronic acid traps moisture in, enhancing hydration levels and plumping the skin. 
There are a few ways to use resveratrol with hyaluronic acid. In the case of serums, you can layer the hyaluronic acid in the morning and leave the resveratrol serum for nighttime. Or, you can add them both to your PM routine by using a resveratrol serum, followed by a hyaluronic acid moisturizer. Regardless of your choice, your skin will love you back for pairing resveratrol with hyaluronic acid. 
How to Use Resveratrol with Vitamin C
Pair resveratrol with vitamin C for a robust antioxidant defense system that increases elasticity and evens skintone. Since they are both antioxidants, the two of them in tandem create a powerful free radical scavengers boost and a stronger defense. Additionally, resveratrol and vitamin C induce collagen production which leads to firmer skin and both inhibit the pigment-producing enzyme (tyrosinase) which brightens dark patches. 
We recommend using vitamin C in the morning to take advantage of its ability to shield against environmental aggressors and leave the resveratrol for night. Or, if your skin is on the easily reactive side and you prefer to use vitamin C at night, start with the vitamin C because it's water-soluble, and follow with resveratrol as that's fat-soluble.
How to Use Resveratrol with Vitamin E
Resveratrol and vitamin E make a great pair to increase antioxidant effects
and deliver moisture. Resveratrol increases the skin's ability to retain moisture by its collagen-boosting power, while vitamin E keeps lipids fresh, maintaining the protective barrier integer. Vitamin E heals skin and sun damage, while resveratrol calms and soothes,  making these antioxidants a winning duo.
There are a few ways to use resveratrol and vitamin E together. You can layer your vitamin E product in the morning and resveratrol at night, or mix them both into your PM routine. Using a resveratrol serum and trapping it with a vitamin E moisturizer will help you wake up with soft, resilient skin. 
How to Use Resveratrol with Retinol
Using resveratrol and retinol brings you closer to great skin since they both work to firm, even, and smooth. Their collagen-producing benefits and ability to brighten hyperpigmentation help reveal the greatest version of your skin without any interaction or dryness.
These compounds work the best when worn at night. In your PM beauty ritual, cleanse, follow with a resveratrol serum, then layer retinol, and lock everything in with a reparative moisturizer. The reason resveratrol goes beneath retinol even if they're both oil-soluble compounds is that it creates a veil between your skin and retinol, diminishing the chances of irritation. 
Find the Best Resveratrol Product for You
At Exponent, our mission is to set a new standard for effective skincare so you can cut through the clutter and choose products that actually work without worrying about the daily environment deactivating them. For us, lost actives are a lost cause. So, do yourself (and skin) a favor and try our Calm Revival Green Tea Resveratrol Serum. In case you want to give your skin a jumpstart and help protect, firm, even, and smooth it some more, pick the Brightening Boost Vitamin C Serum and our Retinol Serum and mix them together to enhance their effects.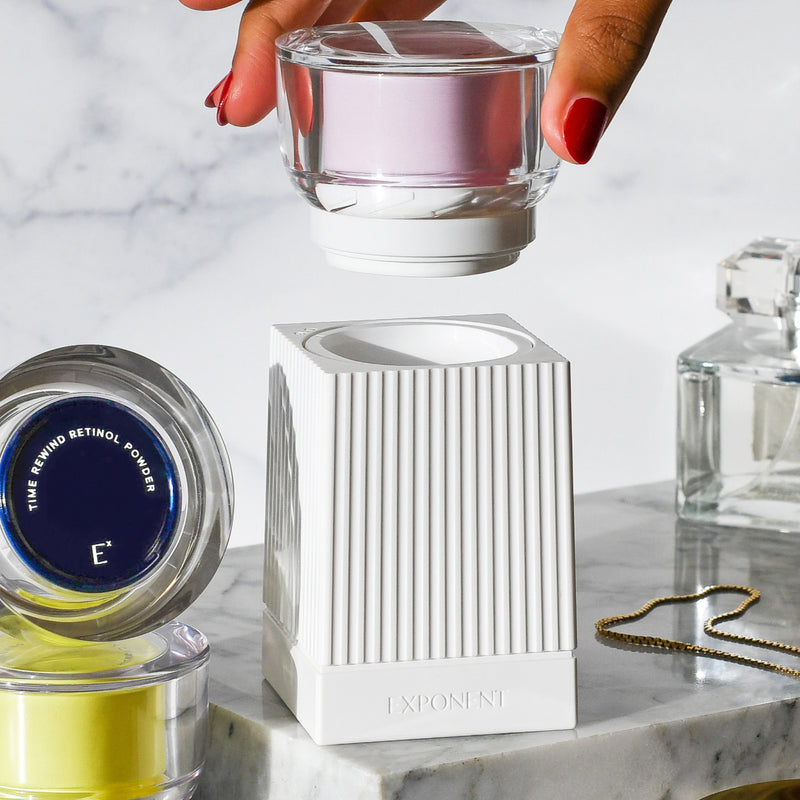 MIXED FRESH AT PEAK POTENCY.
Powered by clinically-proven, pure Active Powders combined with a Hyaluronic Acid Hydrator, our Superior Serums are made fresh in an instant at peak potency.
SHOP NOW