In Full View: Liz Whitman
Founder Story
News
skin
Skin Care
The Standard
Share on:
by Holly Brown / Oct 22, 2021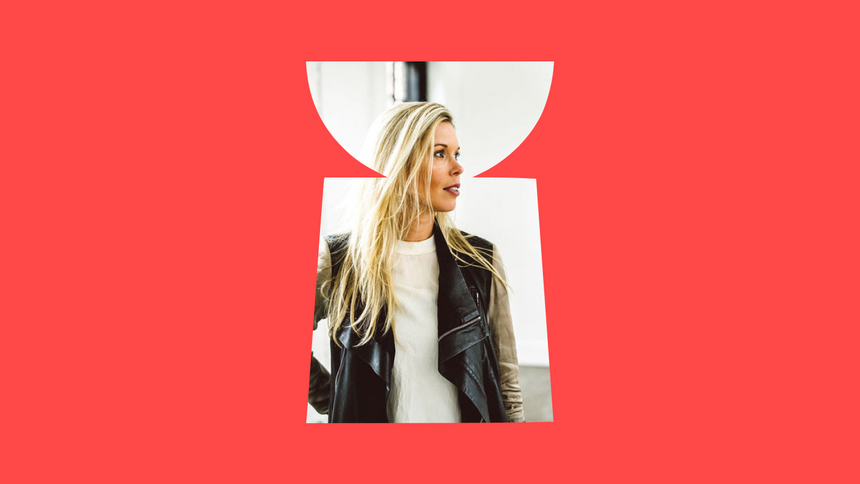 Q&A
HOW DID YOU COME UP WITH THE EXPONENT STANDARD?
Over the course of my research and development of Exponent's skincare line, I'd tell friends what I was up to and watch as they got more and more depressed at my findings. Nobody wants to be a downer! So I started a recommendations list to help them weed through the information and find those standout products that I knew would be clinically effective. That was the inspiration for the Exponent Standard — why not share the research we were doing more broadly and in an actionable way? The Standard is an insiders' guide to effective skincare that includes valuable research learnings and product recommendations for folks to find skincare products that perform.
WHAT WERE YOU DOING BEFORE RESEARCHING SKINCARE?
I've been in the beauty industry for 15 years so it's hard to remember a time before I was around skincare! I've always been an entrepreneur, starting in third grade when I created a bag business for kids at school to keep their playground jacks in (the game was all the rage!). I love building new things and while it's always a ton of work, I get a lot of personal satisfaction out of watching how folks respond. Bonus points if we can make someone's heart soar. Before Exponent, and in addition to various corporate general management jobs, I founded two other businesses: a women's designer clothing line and Manicube, an in-office nail service that was acquired by The Red Door by Elizabeth Arden, where I subsequently became President and Chief Marketing Officer.
WHAT DO YOU CONSIDER THE BIGGEST SKINCARE MYTH? 
That a product named for an ingredient (i.e. Vitamin C Serum) contains enough of it to be beneficial, when, in reality, many products are fairy dusted. And that thick, heavy moisturizers hydrate more. The truth is that many often just create a barrier on top of the skin without replenishing hydration deep down. 
DESCRIBE YOUR OWN MEDICINE CABINET (A VERBAL SHELFIE)
An exercise in organized chaos. If Marie Kondo ever saw it, she would be shocked.
WHAT SHOULD YOU ALWAYS LOOK FOR WHEN READING LABELS?
FULL OF one of the 12 proven, active ingredients! L-Ascorbic Acid, Retinol, Lactic Acid, Resveratrol, CoQ10 etc. FREE OF Aluminum, Formaldehyde, DEA/TEA/MEA, SLS, Triclosan.
AS THE FOUNDER OF EXPONENT, WHAT'S A MANTRA/MOTTO YOU LIVE BY?
Get up, dress up, show up, speak up. Overall, make it count. 
OUTSIDE OF SKINCARE, WHAT ARE THE BIGGEST WAYS YOU TAKE CARE OF YOURSELF?
A lot of self-care mixed with a little indulgence. Exercise, sleep, regular at-home manicures (Essie's Fifth Avenue Red), TV, Indian food, margaritas, time with friends.
ESSENTIAL ITEMS IN YOUR BAG?
Notebook and pen, Elta MD SPF for Face, hat or visor, refillable water bottle, snack bar.
BEST CAREER ADVICE YOU'VE EVER RECEIVED?
Attach yourself to someone you can learn a ton from early on. As for hiring — if there's any doubt, there's no doubt. Don't hire that person, the quality of your team is precious.
IF SOMEONE COULD TAKE ONE THING AWAY FROM ALL THE DATA EXPONENT IS SHARING, WHAT WOULD IT BE? 
Beneficial, active antioxidant ingredients disappear quicker than you'd imagine. Skincare shouldn't be watered down and bottled up.
WHEN NOT TESTING PRODUCTS, WHERE CAN WE FIND YOU?
Out to dinner, visiting friends and family, or at the park walking my tiny-with-an-outsized-personality dog, Edith. 
LIFE THROUGH EXPONENT EYES
MY MORNING IS
Full of coffee
Free of chaos

MY SKINCARE ROUTINE IS
Full of trying new products
Free of minimalism
 
MY TO-DO LIST IS
Full of items ranging from tactical to high level
Free of constraint 

MY LIFE OUTSIDE WORK IS
Full of fetch with Edie
Free of thinking about work (mostly)

MY CURRENT WATCH LIST IS
Full of revisiting old nostalgic shows
Free of science fiction

MY FAVORITE INSTAGRAM POSTS ARE
Full of aerial landscape photos, beautiful interiors, my friends' kids
Free of memes
 
MY FRIENDS WOULD SAY I AM
Full of advice
Free of filters
 
I AM
Full of anticipation
Free of obligation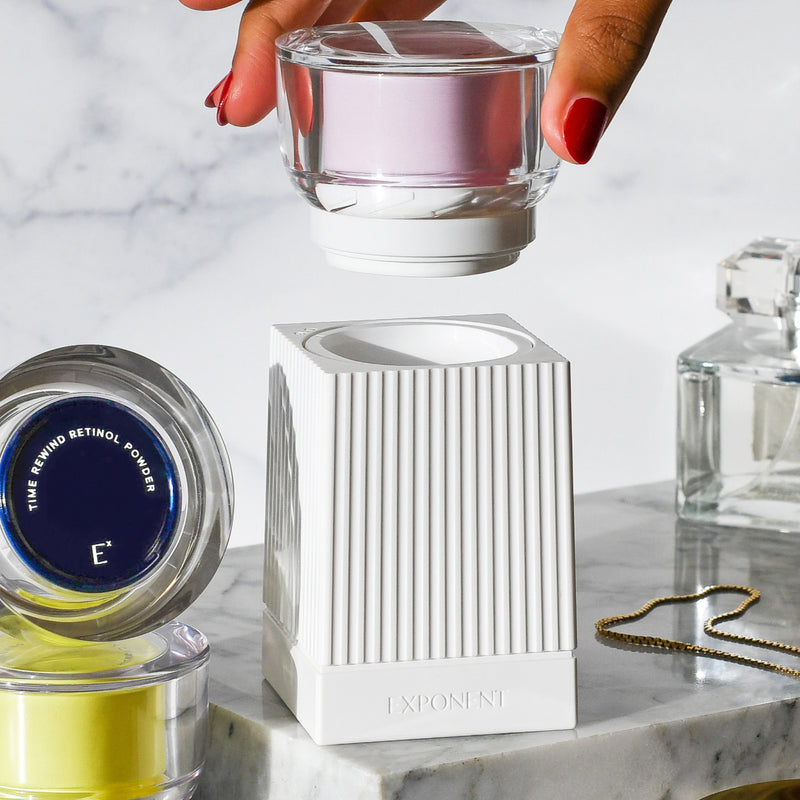 MIXED FRESH AT PEAK POTENCY.
Powered by clinically-proven, pure Active Powders combined with a Hyaluronic Acid Hydrator, our Superior Serums are made fresh in an instant at peak potency.
SHOP NOW