Beauty Product & Package Recycling - What You Need to Know
Share on:
by Exponent Beauty / Sep 29, 2022
Everybody is fond of skincare products with unique packaging - eclectic shapes and colors - but not everyone engages in more environmentally-friendly choices. At a closer look, the cosmetics industry has an enormous impactful on our environment, and produces 120 billion units of packaging every year, most of which are not recyclable.[1] We all need to do our part to minimize package waste as much as possible, especially as the problem increases due to the growth of the global cosmetics market. Here are some tips on how to reduce your carbon footprint, use more zero-waste packaging, and make more environmentally-friendly choices when picking your skincare favorites.
Waste & Recycling in the Beauty Industry
The beauty industry is one of the major contributors to environmental pollution, adding up to 120 billion units of plastic packaging every year. This constant growth tendency can make the future looks alarming. According to a 2017 study, 79% of plastic ended up in the natural environment or landfills, 12% was incinerated, and only 9% has been recycled. If we stay on the current trajectory, by 2050, roughly 12,000 metric tonnes (Mt) of plastic waste will be in landfills.[2] Additionally, it's estimated that 14 million tonnes of microplastic reside on the ocean floor, polluting our drinking water, and food supply.[3]
Truth be told, we are often lulled into complacency, believing we are making a positive impact on the environment when, in fact, it's not entirely true. Most people pass all the responsibility to a blue bin with full faith that their plastic waste will be recycled because that's what the label claims. But not all plastic is recyclable. According to Resin Identification Codes (RIC), plastics are classified into seven categories, and of all, "only PET #1 and HDPE #2 bottles and jugs, with acceptable shrink sleeves and labels, can be claimed as recyclable in the U.S. today," as per a Greenpeace report.[4] However, what type of plastic can be recycled also depends on your city's recycling facility.
Out of 36 million tons of plastic generated in the United States annually, only 9% are recycled, as stated by the EPA.[5] These statistics are worrying but somehow understandable as most packaging uses plastics that are not recyclable — especially cosmetics. So, it is the duty of each of us to do our part and reduce plastic consumption, reuse, and recycle. 
What is the Impact of Recycling One Glass Bottle?
Every small thing you do, good or bad, has major consequences in the long run. Take, for instance, the impact of recycling one glass bottle. Recycling one glass bottle saves enough energy to run an 100-watt compact fluorescent bulb for 20 hours, produces 20% less air pollution, and 50% less water pollution than when a new bottle is made from raw materials. On the flip side, throwing away a glass bottle means producing a new bottle that would require 30% more energy than making it from used glass. Plus, a glass bottle takes 4000 years or more to decompose if it's in a landfill.[6]
How to Recycle Beauty Products the Right Way
We live in a world where recycling doesn't exactly mean what we thought it meant, and most packaging ends up in landfills anyway. Follow these tips when trying to discard your beauty products in a more planet-friendly way. 
Look for products made with metal or glass whenever possible
Metal and glass are infinitely recyclable materials, so they can be recycled again and again without degradation of quality or purity. Plus, glass and metal, unlike plastic, don't contain harmful chemicals, such as phthalates, PVC, or polycarbonate that can leak into your skincare if stored in heat. 
Aim to use single-material packaging
Choosing single-material packaging helps to facilitate the recycling process. Multiple-material packaging is not efficiently recycled since the materials have to be separated in order to follow their recycling process, thus increasing energy waste. For this reason, using single-material packaging is actually considered a significant part of the solution.[7]
Explore refillable products
It's always better to reuse a product than to recycle it, as recycling itself consumes resources. Refillable packaging reduces new production, which saves energy and other resources. Many brands are beginning to offer refills, and often at a discounted price. 
For instance, Credo Beauty provides the Sustainable Packaging Champions label to easily find products that offer refills.
Know what can't be recycled and try to minimize usage
Most local recycling programs only accept certain things. Very commonly they will accept: paper, glass, plastics with the labels #1-2, aluminum and other metals. They will most often NOT accept any kind of squishy or malleable plastic, anything smaller than your thumb, and colored plastic or glass. These hard-to-recycle materials can be properly disposed of with a beauty specific recycling program (see below for some examples). Make sure to check your local recycling rules and follow suit! Recycling items that are not accepted can end up contaminating the rest of that load and sending the entire pile to the landfill. 
Leverage in-store recycling programs whenever possible
You should do what you can to minimize your waste on a daily basis, and one of the essential things is to use in-store recycling programs whenever you have the option. Many beauty brands have started to take responsibility for their waste and are offering this kind of program. Often it involves dropping the empty containers back in store in exchange for loyalty points redeemed towards new purchases. This helps keep waste out of landfills, and you get to purchase discounted skincare while contributing to saving the planet. Pact Collective, for example, accepts a plethora of beauty product items that cannot be thrown into many municipal recycling plants. 
Beauty Brands with Recycling Programs
Sustainability in skincare is not a trend; it is a must. 
Here are some of the brands that are leading the charge on beauty recycling programs:
Kiehl's
Burt's Bees
Pact Collective 
Kiehl's
Kiehl's is on a mission to cause as little impact to the environment by creating responsible formulas and sustainable packaging. For instance, over 80% of their packages are made with post-consumer recycled materials. Through their Recycle and Be Rewarded program, Kiehl's encourages all of its customers to recycle their empties. Whenever you return a full-size empty container at your Kiehl's local store, you earn 10 points; these points accumulate and unlock vouchers for your next purchases.[9] Kiehl's will then send the empty packaging to TerraCycle to be recycled.
Burt's Bees
Burt's Bees has a recycling program in partnership with TerraCycle. Collect your products as they run out, and when you have a full box, ship it to TerraCycle. Again, it's important to only ship when the box is full to minimize the transportation carbon footprint of this program. The shipping label is prepaid by Burt's Bees, so service is free to use.[10]
Exponent
We at Exponent are on a journey toward reducing environmental impact. For this reason, we created effective skincare with refillable packaging that can be used again and again, helping you reduce single-use plastic waste. Additionally, all of our empties are made of infinitely recyclable materials - aluminum and glass that you can put directly into your recycling bin. Even better, you can upcycle them, using them to store your hairpins, small jewelry, or spices. The result? Less waste without sacrificing the benefits of your high-performance skincare products. 
We also offer a takeback program for our Self-Activator system and any other brands hard-to-recycle beauty products with Pact. If you'd like to look for a drop off bin or participate in our mail-back program, head here.  
Pact Collective
Pact Collective has partnerships with many brands (Ilia, Saie, etc) and retailers (Credo Beauty, Sephora, etc) to recycle hard-to-recycle empties. Pact has two ways of collecting these empties. The most sustainable option is to find a Pact Bin in a store near you. This saves the carbon footprint on shipping as you can drop as many empties off as you have in the box. If there is no bin near you, however, you can participate in their mail back program. Consumers can mail up to 10 empty beauty products per month from any brand, and Pact Collective is responsible for recycling them so they don't end up in a landfill. You just have to fill out a form to request a $5 shipping label, clean ten empties and place them in a box, attach the label to the package and drop it in the mail. Easy![8] 
Switch to Sustainable Skincare with Exponent Today
With Exponent, it's effortless to stay on the sustainable side of skincare without sacrificing performance and results. As a certified B Corp, we meet the highest verified standards of social and environmental performance and transparency in addition to selling refillable precision-dosed packaging that is consciously made to eliminate plastic waste. 
Ready to switch to sustainable and high-performance skincare? Check out our Starter Kits such as retinol, vitamin C, hyaluronic acid, CoQ10, or resveratrol — all tried-and-true ingredients that never quit.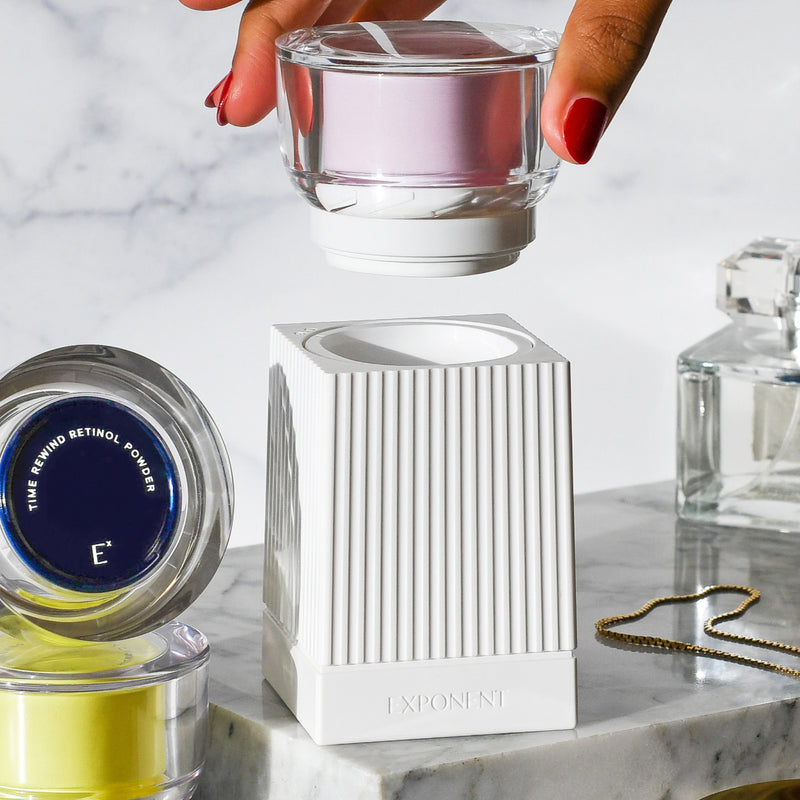 MIXED FRESH AT PEAK POTENCY.
Powered by clinically-proven, pure Active Powders combined with a Hyaluronic Acid Hydrator, our Superior Serums are made fresh in an instant at peak potency.
SHOP NOW