Unleashing Potent Skincare with Sustainable Packaging Design
Design
Founder Story
Lifestyle
Sustainability
Share on:
by Exponent Beauty / Jun 21, 2023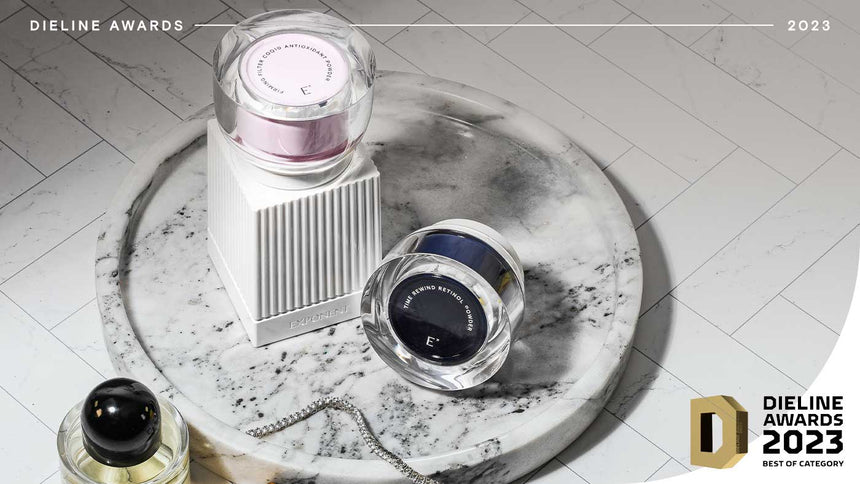 Exponent Beauty has been honored with the prestigious Best of Sustainability Award in the 2023 Dieline Awards—an accolade that recognizes our dedication to what we like to call intentional design. This is where form and function meet environmentally responsible packaging. This recognition from the esteemed Dieline Awards showcases our commitment to innovation and sustainability in the beauty industry.
From ideation to execution, here's a behind-the-scenes look at the making of our award-winning product design—as told by our Founder and CEO Elizabeth Whitman.
The Birth of Exponent Beauty
As President of The Red Door by Elizabeth Arden, I had an epiphany that sparked a transformation. Watching estheticians expertly mix skincare concoctions to unlock the true potential of active ingredients, my mind raced with questions. How effective are pre-mixed retail products? Do they truly deliver the potent results we crave? Fueled by my curiosity, I commissioned a groundbreaking lab study that left no doubt: Top-selling clinical skincare products lost nearly half their potency in a blink of an eye—just six weeks. The order of magnitude of the "emperor has no clothes" problem was shocking. I'd been selling products that overpromised and underdelivered, and I felt compelled to find a new solution.
Conceptualization and Brief
We are only as strong as the people around us, and my first critical step was to find and convince a dream team of industry insiders willing to, well, take on the industry. Chemistry gurus, product development wizards, industrial design magicians at Tomorrow Lab, industrial engineering maestros at Wormser Group, and the branding mavens at Bartlett Brands all came together to embark on a mission of reinvention. Our goal? To create a skincare system that ensures every dose is packed with unparalleled clinical potency. But we didn't stop there. We wanted a packaging design that would not only be functional but also a sustainable game-changer. Armed with determination and seemingly boundless creativity and patience, we delved into three years of intensive research and development.
Bringing Magic to Life: The Enchanting Formula Development Process
At the heart of Exponent's groundbreaking skincare system lies a captivating formula that seamlessly blends the power of anti-aging ingredient Active Powders and a Hyaluronic Acid Hydrator. The journey of developing this extraordinary fusion of ingredients was nothing short of magical, involving meticulous craftsmanship and unwavering dedication. Led by the brilliant Product Developer Nancy Leung and her chemistry team, we embarked on an alchemical quest to create a formula that could unlock the true potential of active ingredients. The challenge was to find the perfect harmony between the powdered actives and the hydrating properties of the serum, ensuring optimal concentration and effectiveness over about 50 different iterations.
Form and Function
Next, we needed to design a seamless and elegant packaging solution that could dispense precise doses of powders from a bulk for a perfect, fresh, precise concentration of active ingredients. This was a hard problem to solve and demanded our engineering team's finesse and ingenuity to devise a visionary design: a dispenser that elegantly dispenses the liquid upward and the powder downward into a crucible where it can be mixed easily by the consumer. We went through at least 30 different functional iterations to hone the consumer experience and powder dispensing mechanism.
Guided by our holistic innovation process, we explored a multitude of industrial design form factors and user experiences enabled by this remarkable dosing system. Through captivating sketch prototypes and interactive user research, we discovered the optimal method. It was a simple-yet-engaging gesture: As the user presses down on the top of the system and gives it a quarter turn, they unlock a world of skincare possibilities. Removing the top reveals two perfect powder piles and a pool of activator, both eagerly awaiting the user's touch to be transformed into a lighter-than-air, homogenous serum.
Through meticulous selection and refinement of our pumping system, we accomplished the feat of delivering just the right amount of liquid activator. But the enchantment did not stop there. We also introduced a revolutionary rotating powder dispenser, a now-patented marvel, capable of releasing a precise dose of powder. Each dose is accurate to within an astounding +/- 3%, ensuring exceptional precision and reliability.
Our patented Activator packaging system—an embodiment of functionality, sensuality, and sustainability—is the world's sexiest dispenser (not a device!). It functions like a key unlocking a door: the captivating Powder Globe pushes down into the Hydrator Base and is twisted clockwise to dispense a precise amount of powder, intertwining their essence with a simultaneous twist and push. This ensures precise dosing without compromising the integrity of our potent ingredients.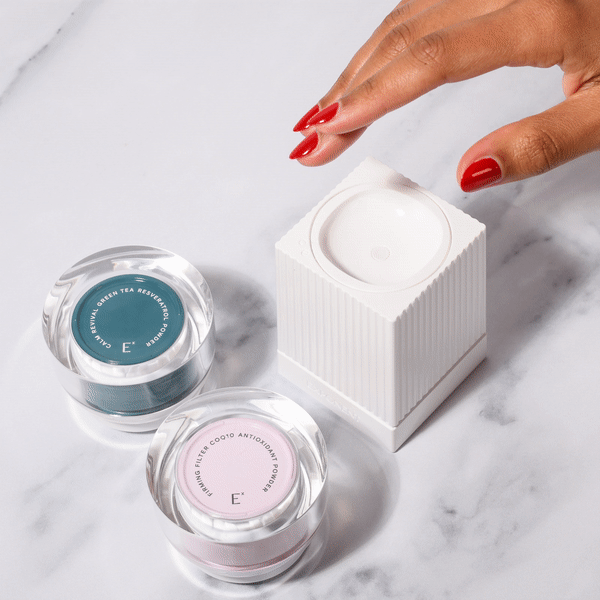 Unlocking Elegance: Maximalist Branding and Design Brilliance
But we didn't stop at functionality alone. Why are clinical skincare brands always so monotone and boring? We thought: Why can't we have the highest efficacy skincare products in heart-soaring, colorful packaging? 
Our packaging design is an artistic masterpiece, a nod to the opulence of bygone eras. Inspired by vintage fragrance bottles adorning my grandmother Elsie's boudoir, we've embraced a maximalist aesthetic. The Hydrator base, with its sculptural white columns, exudes elegance and grace. And let's not forget the mesmerizing Lucite globes and powder dispensers that showcase our vibrant color palette. They're not just containers; they're enchanting jewels that refract and illuminate, infusing joy into every skincare routine.
The Impact of Our Sustainable Packaging Design
And sustainability? It's in our DNA. We refuse to contribute to the plastic-waste crisis. That's why we've engineered a refillable system that puts the Earth first. Our Activator base can be reused endlessly, while Powder and Hydrator refills come in infinitely recyclable glass containers with sleek aluminum caps. Even our unit cartons play their part, crafted from FSC-certified compostable paper. We're proud to say that Exponent Beauty has been certified as a B Corporation, a testament to our commitment to the planet and its inhabitants.
In an industry that generates a staggering 120 billion units of plastic waste annually (according to leading industry non-profit promoting circularity, PACT Collective), Exponent Beauty has diverted tens of thousands of plastic units through our circular, refillable system. We're making a tangible difference, one refill at a time. But it's not just about numbers; it's about the mindset we're shifting. Our packaging design has opened eyes and sparked conversations among clinical skincare enthusiasts who were initially focused solely on efficacy. We've become a catalyst for change, igniting a passion for sustainability that resonates with our loyal customers.
The impossible dream of having it all—high efficacy, functionality, beauty, and sustainability— became a reality for Exponent. After a remarkable journey, I am continually amazed by the relentless dedication and resilience of our team in bringing this invention to life. I invite you to join us on this extraordinary adventure and experience the true magic of activated skincare.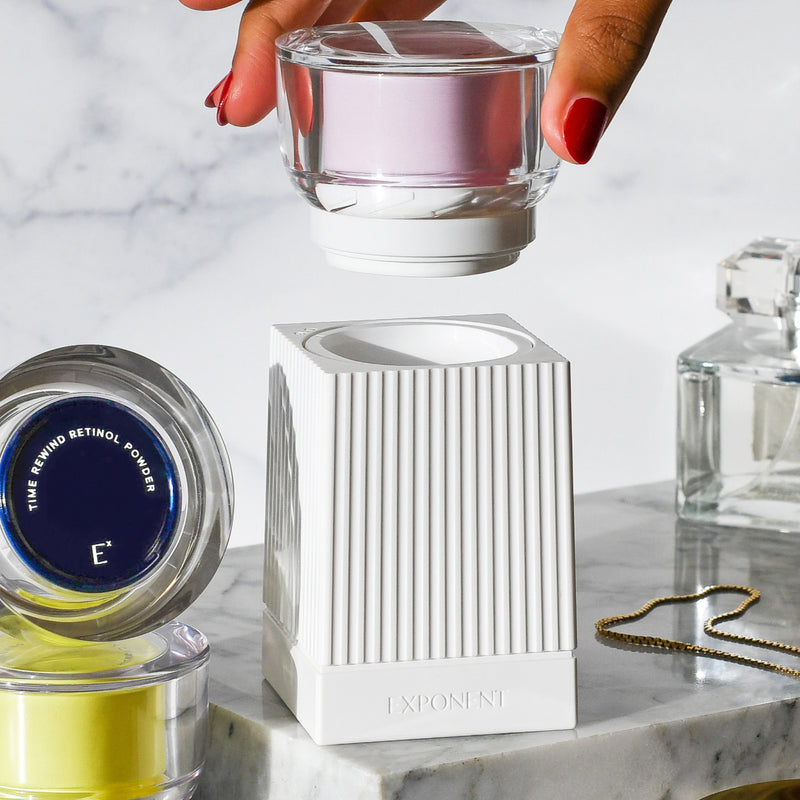 MIXED FRESH AT PEAK POTENCY.
Powered by clinically-proven, pure Active Powders combined with a Hyaluronic Acid Hydrator, our Superior Serums are made fresh in an instant at peak potency.
SHOP NOW