How to Create a Spa-Like Bathroom
Share on:
by Exponent Beauty / Jun 30, 2022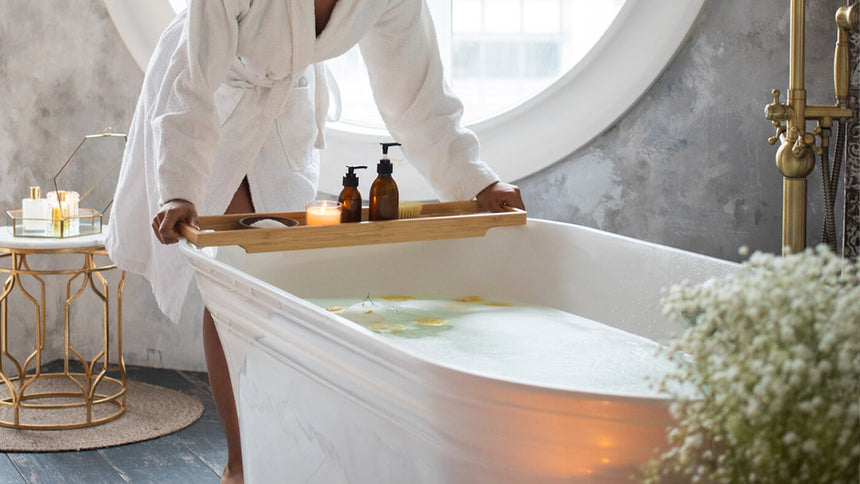 An uninspired bathroom? You deserve better. Here's how to achieve a soothing spa-like atmosphere at home. 
Harness the Power of Scent
Your bathroom should be a personal sanctuary — a space to feel relaxed and rejuvenated. Transport your senses by using essential oils or opting for an aromatherapy diffuser. Scent travels straight to the sector of the brain that controls memory and emotion. Calming fragrances such as bergamot, eucalyptus, lavender, rosemary, and ylang-ylang have the power to elicit positive emotions and lower stress levels. [1]
Enhance the Visual Appeal 
Create a tranquil environment with a color scheme that inspires relaxation. Moody floral and whimsical, sophisticated animal prints are some of our favorites. Adding plants, flower vases, decorative accents, and artwork will help bring a dimensional layer to the space and make it feel more inviting. Light non-toxic candles and dim the lights when it's time to unwind. Don't settle — your spa-like bathroom should be easy on the eyes. 
Dress Up Your Floors
Soften tile or hardwood floors with plush rugs. Not only do they serve as an element of elegance, but rugs also add comfort, warmth, and character—and help tie the room's design together. 
Elevate Your Organization 
Intentionally designed storage solutions can help organize your toiletries, reducing visual clutter. Use decorative vanity trays to showcase your favorite fragrances along with the sleek Self-Activator System, a high-performance design that doubles as a gorgeous showpiece. For additional storage that matches your aesthetic, install tiers of open shelving. Slender shelves with metallic finishes like brass or copper can add an industrial luxe look to your bathroom. Style shelves with decorative accents, art, and plants. Display plush bath towels in a rolled arrangement — level up by investing in a towel warmer. 
Create a Sound Experience
Block outside sounds with water-resistant speakers or a white noise machine — playing sounds of nature helps get us in the right headspace for relaxation. The sound of running water from a tabletop fountain can also serve as a serene addition to your space and double as a decorative piece.
Influence of Fragrances on Human Psychophysiological Activity: With Special Reference to Human Electroencephalographic Response. Kandhasamy Sowndhararajan and Songmun Kim* Source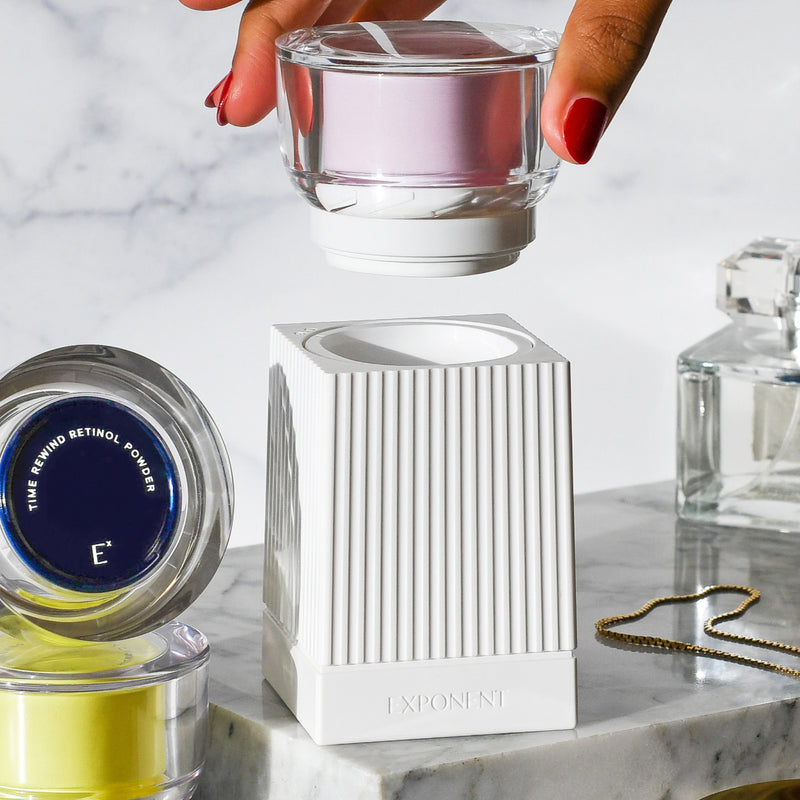 MIXED FRESH AT PEAK POTENCY.
Powered by clinically-proven, pure Active Powders combined with a Hyaluronic Acid Hydrator, our Superior Serums are made fresh in an instant at peak potency.
SHOP NOW