Benefits of Green Tea for Skin: Green Tea in Skincare
Green Tea
Ingredients
Research
Skin Care
Weekend Edit
Share on:
by Exponent Beauty / Jul 08, 2022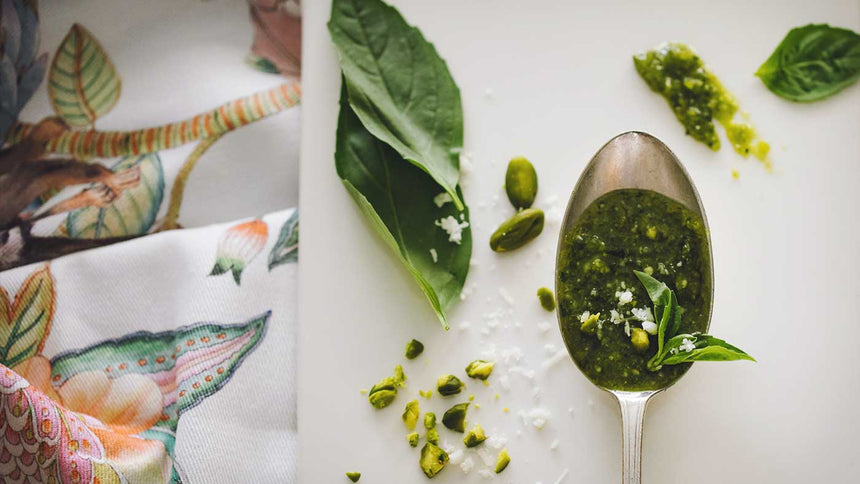 Green tea is packed with benefits — all science-backed — making it a mainstay in most regimens as it provides something for nearly everyone. Green tea made its way from the K-beauty wave to skincare enthusiasts' routines everywhere and it's here to stay. If you haven't given green tea a try yet, you'll be ready to take the plunge after diving deep into the green tea benefits for skin and learning why you need it in your regimen. 
What are the Benefits of Green Tea for Face & Skin?
Green Tea is gentle, protecting, hydrating and nourishing, so the sudden uptick in products infused with green tea has gained momentum. It's a multi-tasker that serves as the main selling pitch in quite a few skincare products promising antioxidant repairing and calming benefits, but what does it really do? Here is the shortlist on green tea benefits for skin that'll make you look forward to adding this godsent compound into your routine:
Neutralizes free radicals
Encourages DNA repair
Addresses clogged pores and acne
Soothes irritation 
Hydrates skin 
Diminishes puffiness and dark circles 
And yes, green tea can penetrate the skin, producing most of its benefits when applied topically.[1] You should also keep drinking your daily green tea to get the best of both worlds. 
1. Protects and repairs skin cells to fight premature aging
When it comes to protecting against early aging signs and encouraging the skin to repair, green tea stands out. Due to its high content of catechins (natural antioxidants), among which the most abundant and researched is epigallocatechin-3-gallate (EGCG), green tea neutralizes free radicals, stopping them from damaging the healthy cells.[2]
As a potent antioxidant, green tea fights against collagen breakdown and uneven tone, meaning it increases the skin's ability to defend against early wrinkles and dark spots. 
2. Promotes DNA repair to support anti-aging
UV rays are the primary factor that leads to DNA damage in cells, causing the skin to age prematurely. The good news is that you can prevent the apparition of early wrinkles by using green tea since it has been shown to increase photoprotection. While the topical application of green tea doesn't prevent UV damage like sunscreen does, studies reveal that it repairs skin that has been exposed to UV by facilitating DNA repair and demonstrating potential anti-aging effects.[3][4]
3. Effectively treats acne and unclogs pores
Green tea has been heavily researched for tackling breakouts, and the verdict is clear: it's a potent acne-fighter. Acne is often caused by excess sebum and bacteria that clog pores, and green tea targets just that. When applied to the skin, it inhibits acne-causing bacteria growth and decreases sebum production therefore acting as an effective acne treatment.[5] 
Moreover, green tea's antioxidant power gives it anti-inflammatory benefits, making it useful for inflamed pimples. At the same time, due to the high content of polyphenols, more precisely EGCG, green tea soothes irritation and reduces redness and swelling, often associated with acne.
4. Reduces redness and irritation
Green tea's anti-inflammatory ability coupled with its gentleness and capacity to boost moisture in the skin, make it effective at relieving redness, swelling, and irritation. For this reason, green tea is often added to skincare products that address bothered skin, including eczema and psoriasis.
5. Nourishes and hydrates skin
The hydrating benefits of green tea come first from its capacity to prevent free radicals from degrading collagen and hyaluronic acid that is naturally found in the skin, leading to a healthy complexion and increased hydration.[6] Secondly, green tea contains proteins, amino acids, and lipids, three necessary elements for making skin better at retaining hydration. More than that, green tea is rich in vitamin B2 (riboflavin), which aids in preventing dryness.[7]
Yet, there is one more way green tea promotes skin hydration — by protecting vitamin C. The polyphenols in green tea "have a protective effect towards vitamin C because they prevent its oxidation."[8] Since vitamin C has a key role in producing collagen needed for moist and elastic skin, green tea plays an important part in preventing its degradation. So, next time you layer your vitamin C serum, pair it with green tea to maximize its effects and enjoy hydrated, bouncy skin. 
6. Treats puffy eyes and dark circles
Green tea is chock full of caffeine and tannins, two essential nutrients that work to shrink blood vessels and decrease puffiness. Consequently, this aids in reducing dark circles, making the eye area appear more youthful. Plus, the anti-inflammatory effects of EGCG help improve microcirculation in the skin, which in turn reduces swollen eyes and aids in brightening the under eye skin.[8] 
Find the Best Green Tea Product for You
At Exponent, our mission is to set a new standard for effective skincare so you can cut through the clutter and choose products that actually work without worrying about the daily environment deactivating them. For us, lost actives are a lost cause. So, make up for lost time with skincare that's ahead of its time, and try our Calm Revival Green Tea Resveratrol Serum System. This super hero product made with green tea, resveratrol, cica, and hyaluronic acid, fights against aging signs while improving redness and hydration.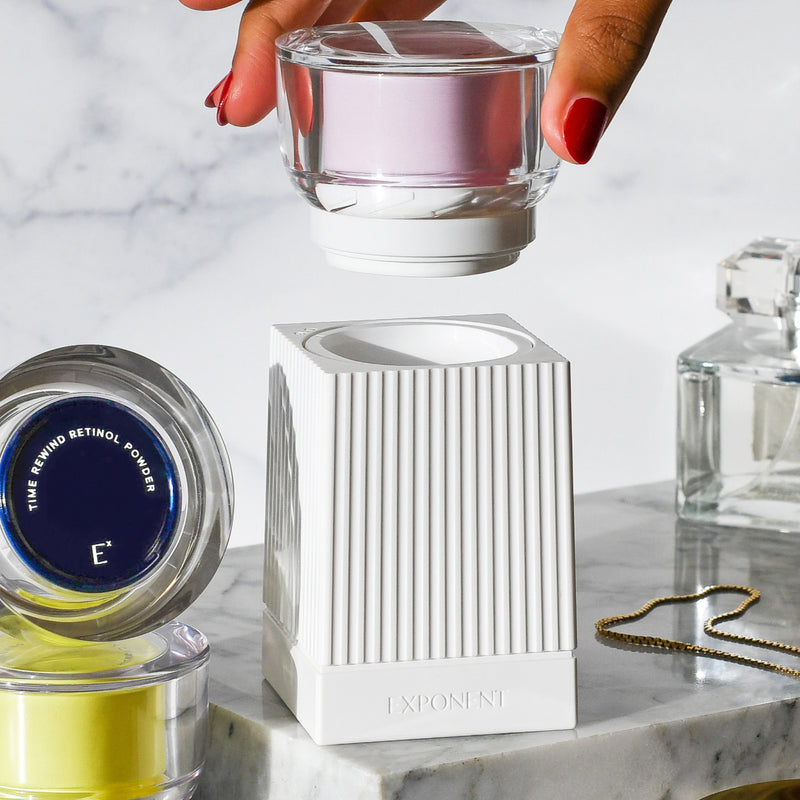 MIXED FRESH AT PEAK POTENCY.
Powered by clinically-proven, pure Active Powders combined with a Hyaluronic Acid Hydrator, our Superior Serums are made fresh in an instant at peak potency.
SHOP NOW